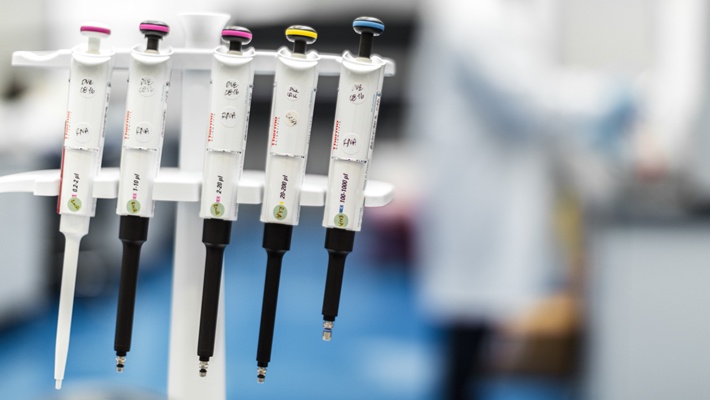 Ribonucleic Acid, otherwise known as RNA, is the messenger that carries instructions for controlling the synthesis of proteins from Deoxyribonucleic Acid (DNA). The central dogma of molecular biology states that "DNA makes RNA makes protein."  However, for the proteins, which are the final product, to work properly, the RNA needs to be "edited,"  a process called splicing. Errors in splicing, caused by DNA mutations, have a profound impact on certain types of genetic diseases. DNA genetic testing can identify these alterations, although many times DNA alone cannot determine whether splicing is abnormal or not, which is why clinicians may call these alterations Variants of Unknown Significance (VUS),  due to its unknown disease-causing risk.
"Most of the alterations that affect splicing happen on a specific area of the gene, the 'splice sites,'" said Ambry Genetics' Associate Director of Translation Genomics, Rachid Karam, MD, PhD. "That region is so important because a VUS affecting a splice site has a higher chance of being pathogenic. But the only way we can know this for sure is by doing RNA assays."
The Ambry Translational Genomics Lab (ATG Lab) primarily focuses on studying VUS and is the only lab of its kind in the diagnostic industry. RNA labs are more commonly associated with academic institutions, but Ambry has been quietly running the ATG lab as an additional service to Ambry clients who participate in the Family Studies program, in order to clarify the clinical implications of splicing VUS.
By having the ATG Lab at Ambry, it is possible to further refine VUS results and look beyond DNA  to determine the benign or pathogenic status of splicing.
RNA labs can provide insight into specific splicing errors within these unknown results and categorize them as either benign or pathogenic mutation. The ability to differentiate between benign and pathogenic has the potential to make a significant impact on clinically actionable genes, such as BRCA1, BRCA2 and CDH1. The results can alter medical management guidelines and patient treatment plans, such as crucial decisions on whether to undergo preventive surgery.
"By looking at the RNA, you can tell if it is really disturbing splicing or not, and consequently, you can use that as evidence to classify this [VUS] as benign or pathogenic," said Dr. Karam.
Once a patient is tested at Ambry and a splicing VUS is identified, Ambry contacts the clinician or provider to see if they are interested in enrolling their patient in the Family Studies/RNA studies program. The service takes between two and six months to complete, although future turnaround times may be adjusted.
 "It's a part of our panels tests, so if you get tested here and find a VUS, we are committed to figuring out what the VUS does," said Dr. Karam. "We have the tools for it."
For more information about the ATG Lab, click here.