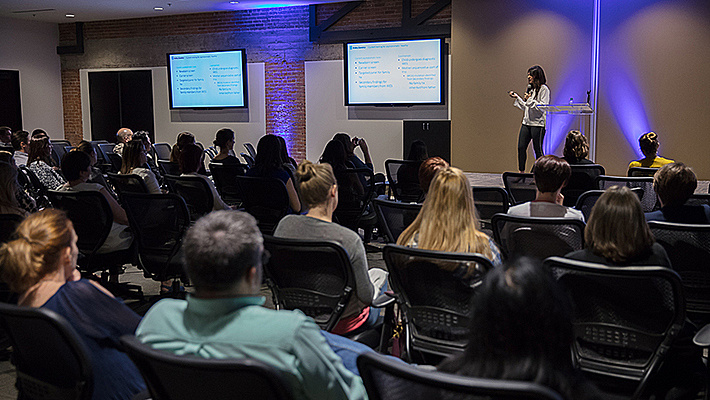 On Thursday evening, March 23rd, an audience of more than 100 genetic counselors and geneticists from across the United States listened to Ambry Genetics' Clinical Genomics Marketing Manager Layla Shahmirzadi, MS, CGC, discuss plans to launch a personalized genomic test for healthy individuals.  The talk took place at Events on Jackson venue in Phoenix, Arizona, ahead of Ambry's Third Annual Trivia Night party at the American College of Medical Genetics (ACMG) annual meeting.
"We are embarking on creating a personalized genomic test for healthy individuals," said Ms. Shahmirzadi. "We are planning to launch a test and really want to work with the entire genetics community, [who] see patients day-to-day. We need to leverage everything we know and develop this test together responsibly."
Genetic counselors and geneticists lined up to participate during this year's ACMG Annual Meeting and also provide valuable feedback regarding the test's application to the medical world and the general population.
"Since the Precision Medicine Initiative was signed in 2015, we've been learning a lot about gene-disease relationships," said Ms. Shahmirzadi. "It's estimated by 2020, we are actually going to characterize all of the genes in the genome--20,000 genes. There's so much we can leverage with what we know today to help people get medically relevant results."
Ambry hopes to provide the healthy individuals with a medically responsible genetic test that will look at an individual's DNA to identify genetic information that may allow a patient to identify or manage disease before it takes root. 
 "Genetics is very complicated, so MD and GC involvement should be a part of this," said Ms. Shahmirzadi. "Direct-to-consumer [genetic] testing is not always accurate. We actually receive a lot of confirmation testing from direct-to-consumer (DTC) labs to do single site confirmation testing. We did retrospective study of all of those results and found that 40% were actually false positives."
The study was presented as a top-rated poster by Ambry's Oncology Genetic Counselor Stephany Connor, MS, CGC, during ACMG's Scientific Poster Session. Her study makes it clear that for DTC testing to be a viable medical tool, it must come from a lab capable of making clinical confirmation calls to avoid the false positives involved with current DTC genetic tests.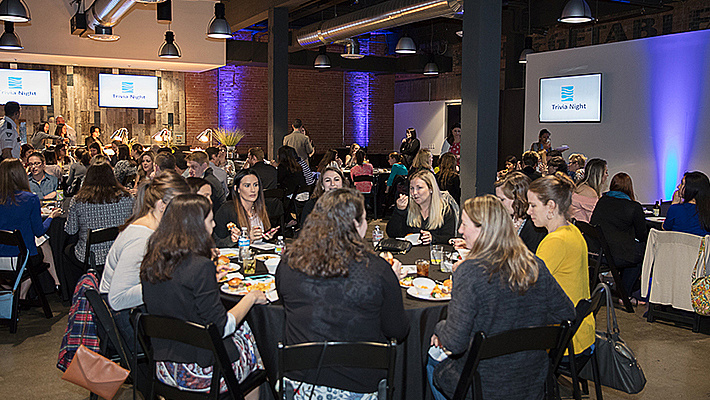 Ambry's genomic test for healthy individuals will operate under approved National Comprehensive Cancer Network (NCCN) guidelines. In addition, it will be regulated by clinicians, such as genetic counselors and physicians, who will help guide patients through their results and discuss any medical results.
"Responsible accurate genetic testing is really up to us," said Ms. Shahmirzadi. "There have been millions of consumers around the world who have been sold this type of testing and were unsatisfied with their results. As a medical genetics community, we're the experts. We should get together, leverage what we know and provide the service responsibly and accurately, which is where we need [the genetics community's] help."
At the presentation's conclusion, Ms. Shahmirzadi encouraged the audience to contribute their thoughts and participate in an initial (Alpha) testing phase.
"I think it's good that Ambry is rolling out this test on genetics professionals first instead of the public," said Caroline Kielczewski, MS, CGC, Medical College of Wisconsin Clinical Pediatric Genetic Counselor. "That would be terrifying."
After the presentation, guests joined Ambry staff for cocktails and hors d'oeuvres, in addition to an exciting and stimulating six-round trivia game. Seventeen trivia teams packed tables across the venue floor, minds sharpened for the evening's questions. Teams tackled fun trivia topics that ranged from guessing Sesame Street Swedish Chef's vocal stylings, following a do-re-mi trivia set and concluded with, of course, classic genetic-based trivia.
Once again, Team NIH prevailed as the 2017 champion by the night's end, boasting their third consecutive win. 
 "What a wonderful event in a wonderful place," said Abigail Weinberg, MS,CGC, Winthrop University Hospital Clinical Genetic Counselor. "The presentation was also motivational and made me think seriously about the future of personalized medicine with healthy genomes."
Stay tuned to Ambry's news and social media channels to find out more information about the personalized genomic test for healthy individuals.