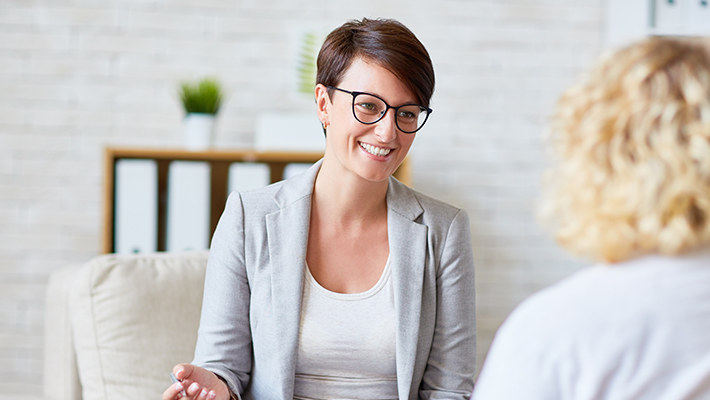 In our more than 20 years of operation, Ambry has come a long way. Looking back, it's important to remember that we would not be "Ambry Genetics" without our genetic counselors. Ambry is built on the foundation of quality genetic testing that helps people find answers – and genetic counselors have been with us from the beginning, working with us toward this goal.
Genetic counselors are interwoven into our history. A genetic counselor was among our first staff members when we started Ambry – proving how integral they are to how we run this company.
 Ambry realized that genetic counselors' expertise would provide insight crucial to running a successful genetic testing company. Many of our genetic counselors have clinical experience, and can directly communicate what our clients need to improve patient care. Ambry's Director of Clinical Genomics, Kelly Hagman, CGC,  says, "Ambry has always respected the role of the genetic counselor; valuing genetic counselors as their core client base has really helped Ambry thrive."
Over the past 20 years, our count of genetic counselors has increased to roughly 100 – almost 15% of our staff today. Their reach and influence extend to every department of Ambry. Hagman says, "We've not only expanded in number, but the roles and specializations we take. It's different than any other lab."
We have genetic specialists in the field who serve as a clinical liaison for any insurance or ordering issues, as well as genetic counseling specialists in our corporate office who educate internal departments and business partners on genetic testing.
Our genetic counselors' reach extends to accessioning, marketing, research and beyond. Some of them look at test requisition forms, review clinic notes, or are involved in our family studies program. Others perform variant assessment and interpret findings from our test results. We have genetic counselors running our operations team, and working as product developers and product managers. Further, many of our genetic counselors have the opportunity to be involved additional research outside of their traditional role for conferences or publication.
Says Stephany Connor, MS CGC, the supervisor of the cancer reporting team at Ambry, "it is good to have GCs in lots of areas of the company because each GC has a unique work experience That can be beneficial in multiple areas of Ambry. Many worked in clinics before they came to the lab, so they have a good grasp on what doctors and clinicians."
Genetic counselors have the unique experience and expertise to serve in these roles and help us thrive. They are fully involved from the origins of the test, to the shipment of the patient report, to everything in between. Alex Meyer, MS, MA, CGC, an Ambry genetic specialist, says, "We need genetic counselors to be in these roles, they have the complete skill set to be as effective as possible."
Ultimately, the goal of genetic testing, and counseling, is to provide information to patients that can help them improve and prolong their lives. Layla Shahmirzadi, MS CGC, the product development manager for Ambry's Emerging Genetic Medicine division says that genetic counselors are vital towards helping patients understand their condition and next steps. "Genetic counselors write the language that is in our reports and ensure it is clinically accurate and appropriate for patient to read, and addresses their concerns. To take complex test info, and translate it to our clients and their patients in an understandable matter, is something that you need genetic counselors for."
It is clear that Ambry could not run smoothly without the dedication of our genetic counselors. Meyer says, "Our goal has always been to show genetic counselors that we appreciate them."
Even as Ambry expands their test menu and client base, our relationship with genetic counselors will remain as important as ever. Hagman says, "There are always going to be complicated results that will require a genetic counselor's opinion." We are proud to employ so many genetic counselors here at Ambry and thank them for everything they do.