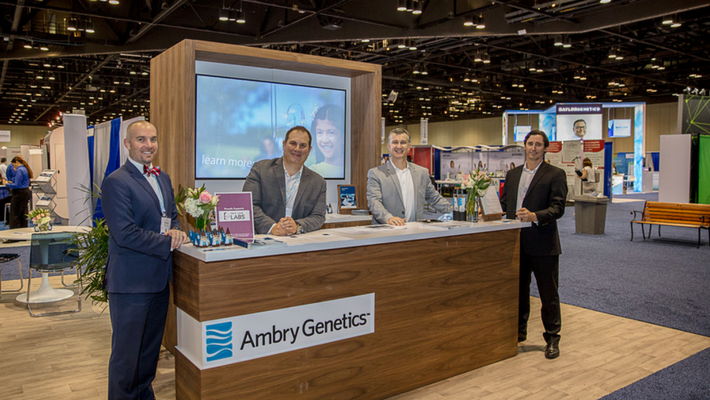 Ambry strives to always present impactful research that moves the science of genetics forward at tradeshows and conferences throughout the year.
Below, are summaries of the research we presented at this year's American Society of Human Genetic's Annual Meeting. 
Black, M.H., et al: Type 2 Diabetes Variants Contribute to Breast Cancer Risk
Type 2 diabetes has long been recognized as a risk factor for breast cancer, but whether these two conditions share a common genetic basis is unclear.  Using AmbryShare™, our rich collection of exome sequence and clinical phenotype data, we examined whether 21 common, diabetes-related coding variants contribute to breast cancer risk.  Detected at genome-wide significance, PPARG P12A increases breast cancer risk, and does so equally for all breast cancer subtypes.  PAM D563G and PPIP5K2 S1207G are protective, decreasing risk for primarily for HR-, HER2- and TNBC subtypes.  These results yield new insight into a common genetic basis for type 2 diabetes and breast cancer.  In particular, the association with PPARG may be a important step toward understanding whether thiazolidinediones, PPARG agonists, may be useful in preventing or treating breast cancer.
Bhoj E.: De novo germline variants in Histone 3 Family 3A (H3F3A) and Histone 3 Family 3B (H3F3B) associated with a severe neurodegenerative disorder and functional effect unique from their somatic mutations
This study is the result of a large collaboration from numerous labs that looked at the cases of 23 patients with alterations in H3F3A and H3F3B genes. From the work in this project, the researchers were able to determine a core phenotype for patients with an alteration in these genes and prove the pathogenicity through functional studies.
Prior to this work, these genes were uncharacterized and little was known about how alterations in these genes affected humans. The study adds to the collective knowledge of the genetics community and proves that it is possible to establish syndromes and give providers and patients more knowledge about prognosis, treatment and counseling for patients with previously unknown conditions.
Mroske, C., et al: Diagnostic Exome Sequencing (DES) coupled with rules-based candidate gene analysis identifies a causative RRAS lesion in a patient with a novel RASopathy.
This poster described a male proband with a germline RRAS mutation, a mutation that was previously reported in a single unrelated patient.  Although both patients shared presentation characteristics such as features of motor delay, thick lower lip and hematological malignancy, our patient displayed a wider spectrum of clinical traits. 
The poster made an impact on the genetics community, as it was sought out by researchers and MDs.  One group of clinicians wished to know whether RRAS was now included on RASopathy panels due to the findings. 
This particular lesion, which is clinically actionable, was discovered using Ambry's 'uncharacterized' or 'novel' analysis pipeline. Many exome sequencing labs do not perform uncharacterized gene analysis and would have missed the finding.  A researcher from England found our results intriguing and requested that Ambry collaborate with her on a cohort study.  She has an intriguing hypothesis regarding the underlying cause of phenotypic diversity in patients who harbor mutations in RAS genes.
Lassiter, R., et al: Attacking a VUS from Multiple Angles: An Integrated Approach for Reclassifying Variants of Uncertain Significance
At Ambry we are using multiple approaches to reduce VUS rates in Neurology panels.  Combining Parental co-segregation studies, Protein structural analysis, and RNA functional splicing assays, with additional strong lines of evidence, has resulted in a significant 42% VUS reclassification rate.
The broad and nonspecific nature of neurodevelopmental disorders can lead to significant diagnostic challenges as they involve a wide range of symptoms and severity. Individuals may present with multiple indications including epilepsy, autism, intellectual disability, developmental delay, dysmorphic features, and other congenital anomalies. Variants of uncertain significance can be confusing and discouraging to both patients and clinicians, which is why our reclassification efforts are so important for the quality of life of our patients. 
Li, S., et al: Tumor characteristics provide evidence for Mismatch Repair (MMR) variant pathogenicity
Tumor microsatellite instability (MSI) and immunohistochemical (IHC) analyses are often used to screen patients at risk for Lynch syndrome and pathogenic germline mutations in mismatch repair (MMR) genes increase the risk for Lynch syndrome and other cancers.
Among 3,320 patients with MMR variants, the study computed the likelihood of an MMR variant being pathogenic based on MSI/IHC results, and found that MMR mutations are strongly associated with abnormal or unstable tumor characteristics.
Leveraging the likelihoods of known benign and pathogenic MMR variants, the researchers were able to identify 15 VUS that may be potentially reclassified as benign/likely benign. These results demonstrate that tumor characteristics such as MSI and IHC provide evidence for assessing germline variant pathogenicity, and can be used independently or in conjunction with other evidence to inform variant classification.
Quan, D.: Gene-specific allele frequency thresholds for benign evidence to empower variant interpretation
Allele frequency has long been recognized as a key criterion for benign variant classification. However, there is no scientific consensus on the best method to define an allele frequency threshold. Using data from ClinVar and gnomAD, Ambry has developed gene-specific allele frequency thresholds with novel data mining techniques.
This study demonstrated that such thresholds can be more reliably and accurately estimated with our method than other approaches. Ambry's method can not only minimize false predictions but can also correctly assign benign evidence to 21% more variants than alternative methods. These results indicate that the studied method can substantially improve the accuracy and yields of variant classification. With additional data and analysis, these findings may be used to inform future classification algorithms as Ambry explores new methods in variant classification.
Rossi, M., et al: Heterozygous de novo alteration in SLC12A6 in a patient with progressive sensorimotor polyneuropathy and abnormal EEG
Different mutations in the same gene can cause similar phenotypes through different disease mechanisms, complicating diagnostics. In this case, diagnostic exome sequencing (DES) identified a de novo heterozygous missense alteration in the SLC12A6 gene, which was previously associated with autosomal recessive agenesis of the corpus callosum with peripheral neuropathy (ACCPN) caused by loss of function (LoF) mutations.
This is the second patient with a heterozygous SLC12A6 alteration and similar phenotype compared to the classic ACCPN. However, heterozygous patients seem to have milder presentation without agenesis of corpus callosum and seizures, while a homozygous missense alteration is linked to an intermediate severity compared to the LoF or heterozygous mutations. These results are in line with mouse studies and support the utility of novel gene analysis in DES. Additional methods should be implemented to confirm the state of the second allele in similar cases.
Sajan, S., et al: Clinical exome sequencing identifies a homozygous whole-gene deletion of DPY19L2 that was not detected by a high-density single nucleotide polymorphism (SNP) array
This poster presented a case where a patient's molecular diagnosis was revealed by diagnostic exome sequencing (DES) but was previously missed by a high density single nucleotide polymorphism (SNP) microarray test. The patient's presentation was globozoospermia, a type of male infertility. DES revealed an approximately 200 kilobase whole-gene deletion of DPY19L2, a well-known cause of this condition. This deletion was missed by the SNP microarray due to poor probe coverage of the region and highlights the power of DES in detecting large disease-causing copy number variants missed by SNP arrays.
Interestingly, another type of microarray test, known as array comparative genomic hybridization (aCGH), is able to detect this same deletion in other patients with this condition. Thus, this case report also highlights the need for SNP microarrays to optimize probe coverage in known disease-causing regions, and for clinicians to carefully decide whether they should order a SNP microarray or an aCGH test, based on their respective coverage of genes and how relevant that coverage is toward their patient's presentation.
Stuenkel, A., et al: Coverage matters: High rate of promoter 1B deletions in a large APC testing cohort
In this large retrospective study of clinical testing data, spanning more than 5 years, the researchers sought to clarify APC positive result rates and the frequency of atypical mutation types. They found that large deletions accounted for >12% of all APC pathogenic mutations detected in the cohort, with those isolated to the promoter 1B region making up 38% of all clinically relevant deletions (>5% of mutations overall).
These results strongly support the ordering of comprehensive APC analysis for patients with suspected APC-related conditions, including deletion analysis of the promoter 1B region. In addition, the data highlights the need to re-test patients with previous negative APC results if the promoter 1B region was not analyzed.
Tian, Y. et al: A model averaging approach for improved in silico variant prediction
In silico scores, such as SIFT and PolyPhen, are used as evidence for classifying a particular genetic variant as pathogenic or benign. Stepwise logistic regression is a statistical method that is typically used to assess many in silico scores, and select the best set for predicting variant pathogenicity. 
However, this method often results in selecting scores that are not informative, and does not account for differences between genes. By using more than 1,000 genetic variants known to be either pathogenic or benign, the researchers compared the stepwise logistic regression method to a gene-specific model averaging approach, and found that the latter improves model robustness and prediction accuracy. The results show that in conjunction with other evidence, such as family history information, gene-specific model averaging may be a more accurate tool to inform variant classification than current methods.