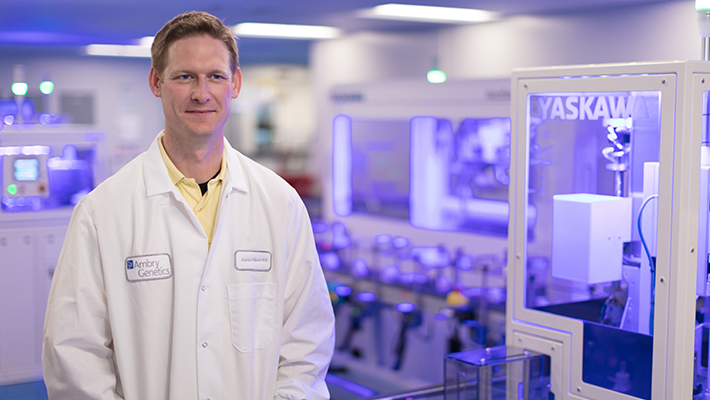 Ambry was founded with one goal– help patients and families. It is with this goal in mind that we design every test, accession every sample, interpret every result, and generate every report. Prior to becoming CEO at Ambry, I held various positions here, including Chief Scientific Officer for 5 years. Our motto is to design, validate and perform every test as if one day your child will depend on the results. It is this culture we embrace at Ambry where we don't cut corners or sacrifice quality for anything.   
We have entered a new era of genetics where our knowledge about hereditary disease is rapidly increasing, the clinical utility of genetic testing is becoming more apparent, and more healthcare providers are commonly using genetic testing to guide patient care. We have seen endless testing options become clinically available, and the cost of testing has become a primary decision making factor for some. But with so many other factors to consider, how should you really choose which testing to use for your patients?  
When it comes to confirming a diagnosis, guiding treatment, or making a plan for early detection and prevention of disease, genetic testing can provide valuable information. Healthcare decisions based on these results can be drastic and extremely expensive. Therefore, it is important to consider not only the cost of testing but the value of quality testing and experience. We have been in the business of rare disease testing for nearly 20 years and in that time have tested over a million patients and counting. We know it takes this kind of experience to be able to consistently deliver accuracy and clarity to patients and families. This is where the true value of genetic testing lies. 
At Ambry, we understand that a one-time genetic test can have lifelong implications for your patients and their family members, so our team is focused on:
Finding answers through best-in-class variant interpretation
Confidently guiding patient care through reliable results
Understanding human disease through innovation, research, and partnerships
Over the next few months, we will be sharing with you details about Ambry's dedication to quality, so that you can see the difference that we can make for you and your patients. Look for more details about the value of our enhanced variant interpretation, our expert variant team, and Ambry's Translational Genomics (ATG) lab.
We look forward to continuing to be your trusted partner to deliver clear and accurate results to patients and families.