Familial hypercholesterolemia (FH) is an inherited genetic disorder characterized by markedly elevated low-density lipoprotein cholesterol (LDL-C) and accelerated atherosclerotic cardiovascular disease (ASCVD), leading to early heart attacks and heart disease. One of the most common genetic disorders, FH affects 1 in 250 individuals in the United States.
Far from a benign condition, individuals with FH have a 2.5- to 10-fold increased risk of ASCVD, yet less than 1% of the FH population in the US is diagnosed – an alarming statistic given that detection and treatment of FH early in life reduces the risk of accelerated ASCVD by 80%.
Cascade Genetic Testing advances timely diagnosis and treatment of FH
Once a patient has been diagnosed with FH via genetic testing, cascade genetic testing also referred to as cascade screening is extending testing to other at-risk biological relatives. This practice is considered one of the most effective and cost-efficient ways to identify a patient's family members who have a diagnosis of FH due to an inherited genetic mutation. In fact, multiple evidence groups, including the Centers for Disease Control and Prevention (CDC), have designated cascade screening as an evidence-based intervention that can reduce the burden of morbidity and mortality from ASCVD, and endorse its integration into routine care by individual healthcare providers, health care systems, and public health organizations.
How the cascade testing process works
Because FH is dominantly inherited (50/50 risk for first degree relatives) and caused by an easily-detected mutation in 1 of 4 genes, cascade genetic testing of family members is highly effective. Once the first family member is identified, we already know exactly which genetic mutation is running through this family and we can test other family members for only that single mutation, instead of looking across multiple genes with a more expensive test. Following the identification of an initial FH patient, also known as a proband, cascade screening is conducted usually starting with siblings and children of the identified patient. Testing continues through expanding tiers of more distant relatives such as aunts, uncles and cousins, until all relatives with the familial predisposition for FH have been identified. Each new FH case found via cascade screening becomes a proband for broader cascading.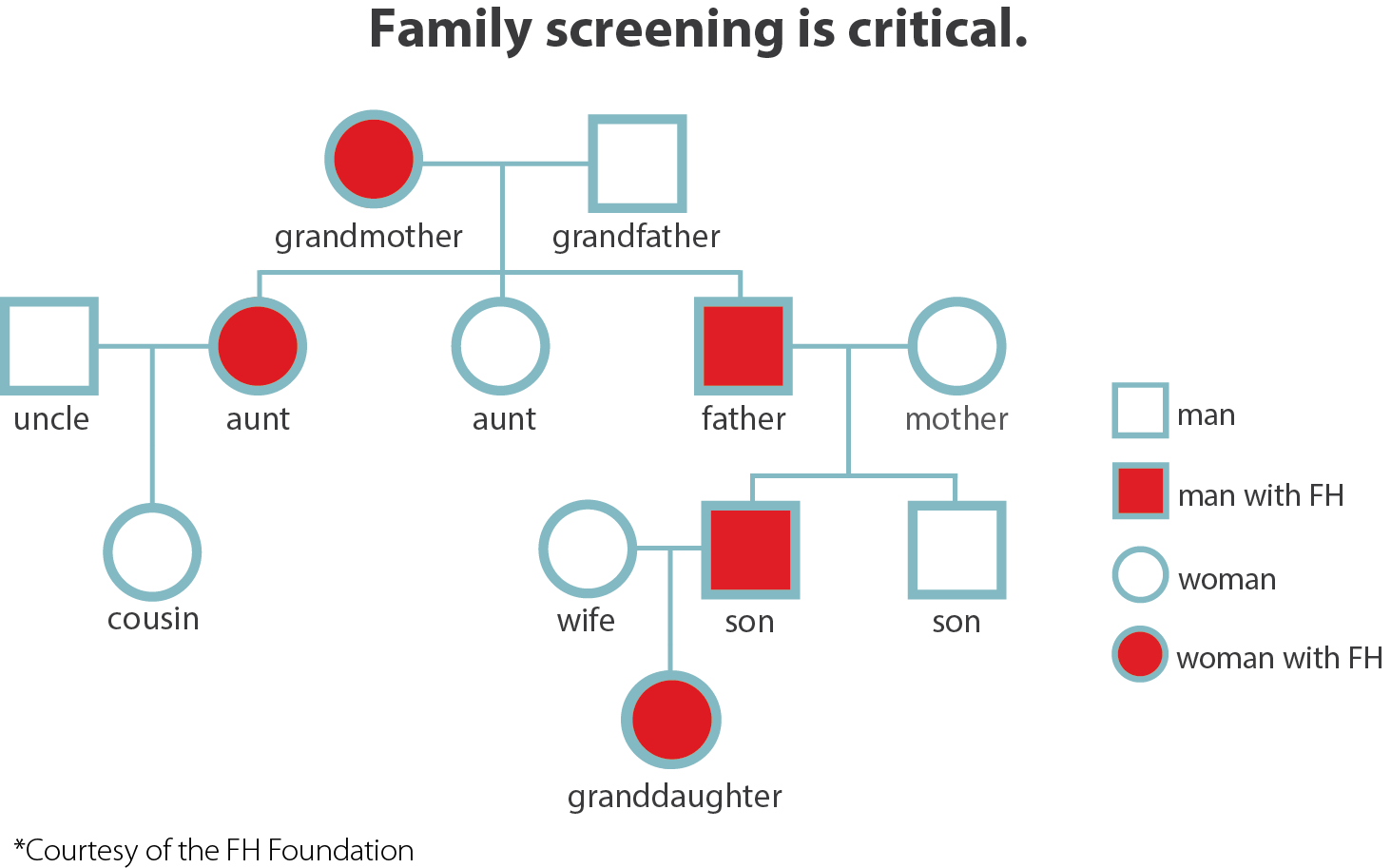 A powerful diagnostic tool that will benefit your patients and your practice
Cascade genetic testing is a powerful, accessible and cost-efficient diagnostic tool that can be life-changing for your FH patients and their families.
However, when choosing a cascade testing laboratory, you must also accommodate the practical needs of your practice and your patients.
Trust Ambry for your FH cascade testing needs.
Building on a 20-year heritage of scientific excellence and clinical experience, Ambry combines high quality in testing and service with ease-of-use for you and easy accessibility for your patients and their family members.
FHNext, Ambry's 4-gene panel test that analyzes genes associated with FH, is designed and validated to be capable of detecting >99% of described mutations in the genes represented on this test. *
Testing for the variant that was identified in the patient is offered to other family members at no additional cost within 90 days of the original Ambry report date for single gene or panel testing of the first family member. **
* The clinical sensitivity of the Next test may vary widely according to the specific clinical and family history.
** Excludes Secondary Findings and SNP Array tests
Ambry is dedicated to giving healthcare providers advanced testing information for FH, so that you can make informed management decisions for your FH patients.
To learn more about what Ambry Genetics can do for your patients and your practice or to order a sample kit, please click here.