Thank you for stopping by! Below you will find information on our research that was accepted by ACMG, along with some new and exciting things happening at Ambry. We hope that you are staying safe and healthy.
Research
Posters:
1) Genetic Testing Utilization Management: Saving Time, Saving Money, And Maximizing Clinical Utility For Patients- A Commercial Lab Experience (Chao E et al)
 More Details
2) Exome Reanalysis Results In An 8% Reclassification Rate (Hagman K et al)
 More Details
3) Practical Applications Of RNA Genetic Testing For Variant Detection And Interpretation: A Case Series (Basel D)
 More Details  
4) Diagnostic Exome Sequencing In Adults With Neurological Disorders (Kirsten Blanco et al)
 More Details
5) Creating An Open-source Gene Curation Database From The Gene Curation Coalition (GenCC) (DiStefano M et al)
 More Details
6) Identification Of An Alu Insertion In MSH2 By Next-Generation Sequencing In A Family With Lynch Syndrome: An 8-year Diagnostic Odyssey (Jacquart A et al)
 More Details
Oral Presentation:
Predicted Truncating Variants In SMARCA4 May Be Innocent: The Importance Of Multi-institutional Collaboration (Witkowski Leora et al)
More Details
 
Telemedicine and Digital Resources
We& provide direct-to-patient ordering options to have a saliva kit shipped directly to your patient!

Do you have a patient with a strong clinical history suggestive of hereditary cancer, but surprisingly, no identifiable genetic explanation? As part of our continued commitment to finding answers for patients and families, Ambry Genetics® is making no cost genetic testing with +RNAinsight® available for 25 selected high-risk patients with previously negative genetic test results through our Unsolved Mysteries Program. 
Submit your patient(s) by May 30, 2020 here
Other +RNAinsight Resources
+RNAinsight
+RNAinsight improves the sensitivity and clarity of genetic testing. It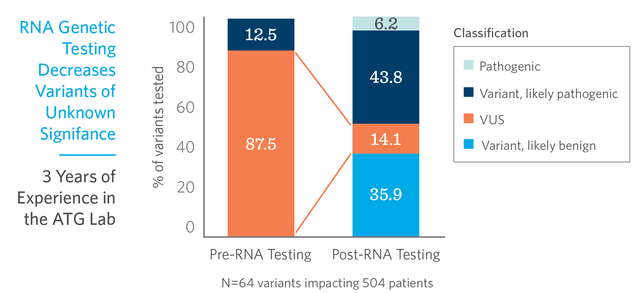 works in tandem with Ambry Genetics' DNA testing to identify patients with or at-risk for hereditary cancer who might otherwise be missed, decrease variants of unknown significance in real-time, and provide more accurate results to inform patient care.
For more information about the benefits of +RNAinsight, visit rnainsight.com
Patient Website
NEW! Visit our new patient website with improved navigation and streamlined resources that may benefit your patients and their family members: