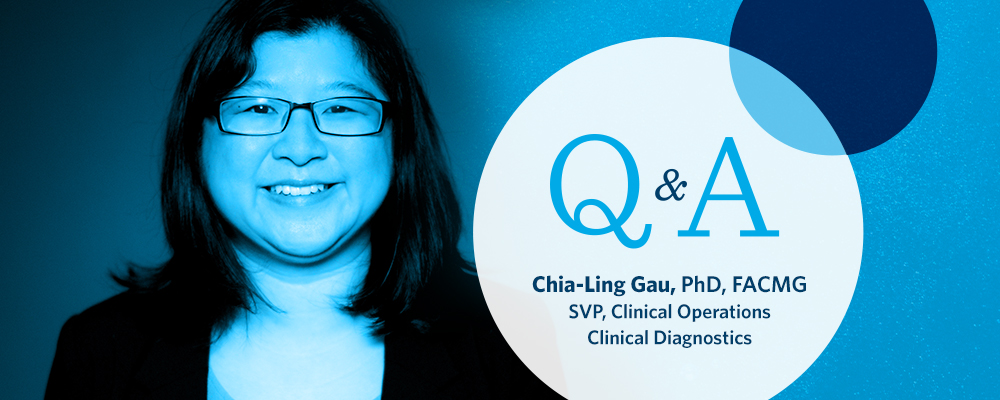 Chia-Ling Gau, PhD, FACMG, joined Ambry Genetics in 2007 and is currently SVP of Clinical Operations–Clinical Diagnostics. In celebration of Asian American and Pacific Islander (AAPI) Heritage Month, she met virtually to share her experience of being Asian American, the importance of keeping her Taiwanese name, and the future of genomics.
Can you talk a bit about your heritage and how it's shaped the person you are today?
I was born in Taiwan to a family with a long history in the region, and I immigrated to the United States when I was two years old. When my family first moved here, we lived in New Jersey and later in the suburbs of Chicago. Both of those areas had small Asian communities, and we mainly engaged with them through our local Chinese churches and Chinese school.
We moved to California when I was in the tenth grade, and my high school's student body there was nearly 50 percent Asian. Moving to California normalized being Asian for me and made me feel like I belonged. For the first time, I felt that Asian Americans had a place in this country.
Before I came to California, I felt different. The other kids made fun of the ethnic food I brought in my school lunch or teased me about my name. My first name, Chia-Ling, was and is too much a part of my identity to change it.
The thing about cultural identity is it's not just one or two things in isolation, like a name or a food. It's a common thread that weaves a pattern of richness and beauty across many parts of our lives while connecting us to the larger community. We all celebrate Lunar New Year together, look forward to the Mid-Autumn Festival, and share a love for Taiwanese night markets.
We love to come together with our families to share in traditional dishes such as hot pot, stinky tofu, Taiwanese-style breakfast, boba, and beef noodle soup. Our shared identity around foods and traditions bonds us together.
Below: Chia's extended family and a potluck of traditional Taiwanese foods.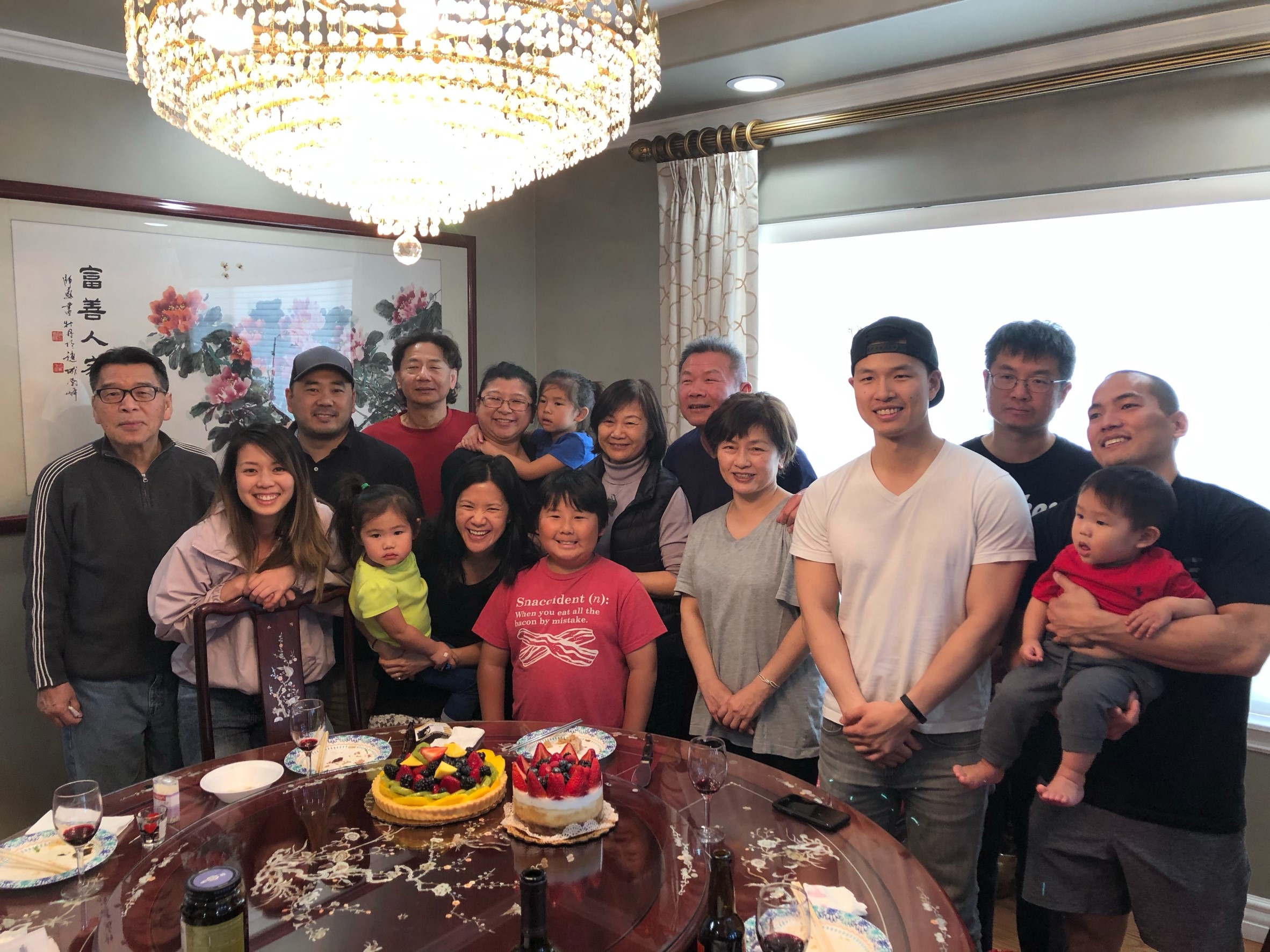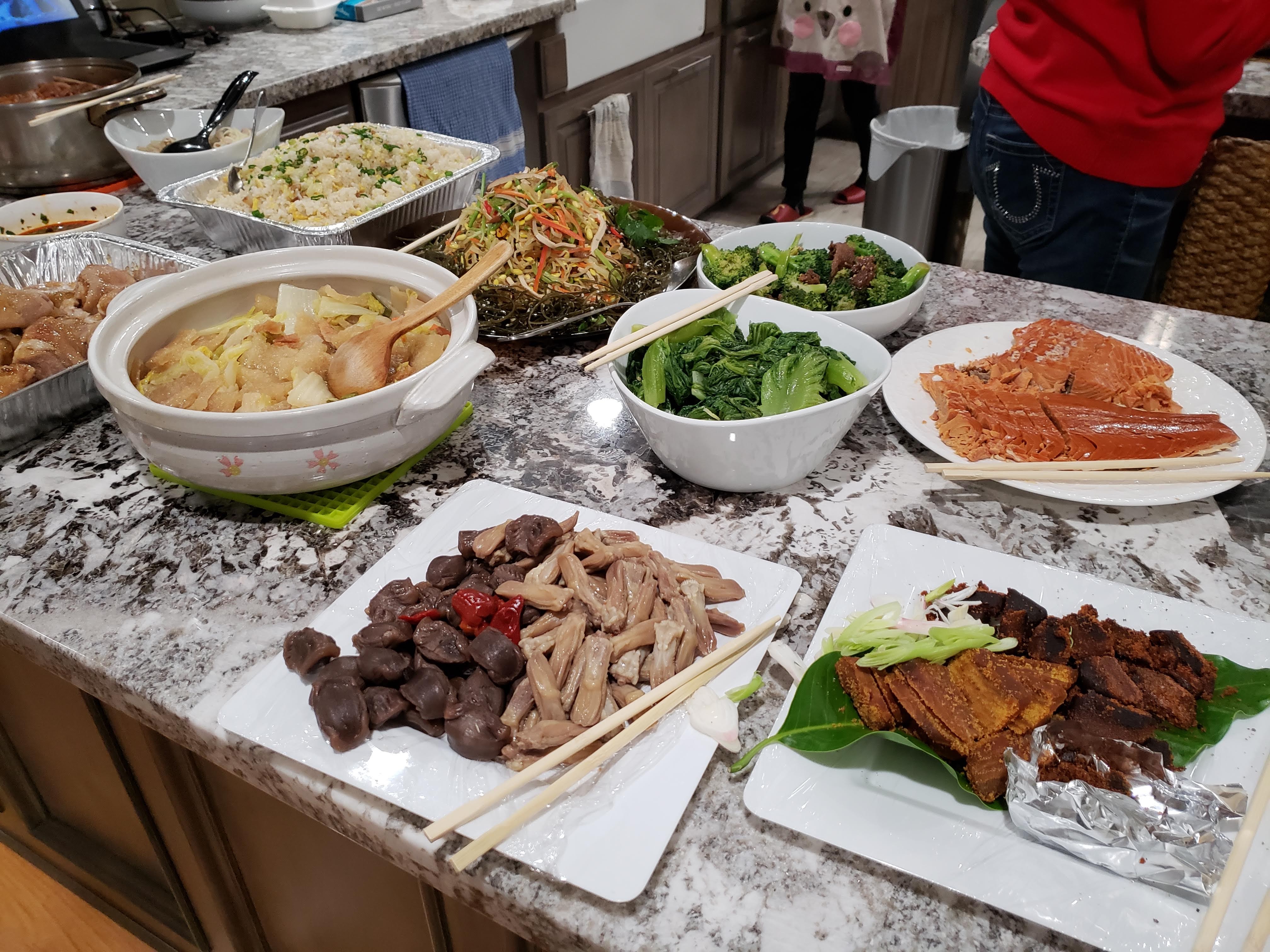 What was your professional trajectory, and what sparked your interest in genetics?
I had one week of genetics class in high school, and I just knew that's what I wanted for my career. I went on to study molecular cell biology at the University of California, Berkeley and worked one summer in my cousin's ophthalmology research laboratory. She helped me find a lab at Berkeley to do undergrad research where I studied diseases and tissue growth in the eye.
After graduation, I spent a year at the Lawrence Berkeley National Laboratory sequencing the whole genome. At that time, it was a massive project that took place over many years in multiple labs across the world.
Later, I was accepted into a doctoral program at the University of California, Los Angeles (UCLA) where I studied cancer cell biology and yeast genetics. I wanted to make an impact on human disease in genetic testing and have a more immediate impact on patients' lives, so I applied for and was accepted into their training fellowship for clinical molecular genetics.
What was it like when you first started at Ambry?
When I came to Ambry in 2007, I was impressed by what felt like a combined academic and diagnostic lab. Ambry was, and still is, cutting edge and at the forefront of diagnostic innovation.
The company had fewer than 50 employees, and the lab was small. I worked closely with laboratory operations to take tests that Research & Development (R&D) developed and validate and operationalize them in the clinical lab.
The thing about cultural identity is it's not just one or two things in isolation, like a name or food. It's a common thread that weaves a pattern of richness and beauty across many parts of our lives while connecting us to the larger community.
What's the most exciting part of being in your field?
Just when you think that we know every way a genetic change can happen, something new pops up to broaden your understanding. The cool thing about genetics is that so many changes can happen to your DNA. The human body is a living organism that never does what you expect.
I like that molecular diagnostics is a fast-paced field where you can have an immediate impact on patients while still maintaining a balanced focus on research. I'm also excited about multi-omics, which will be the next step in explaining diseases by bringing together many different types of data and information.
Disease is complex, and our purpose is to push the forefront of precision medicine and explore new areas. I can't think of a more exciting field. 
At Ambry, women make up 57% of employees company-wide, and 45% are director-level and above. What's it like to be among so many talented women in STEM (Science, Technology, Engineering, and Math)?
Our company culture celebrates women and really works to avoid male-centric bias. In my career, I haven't seen many women in director-level roles, especially in the sciences. I've worked with many female doctors but witnessed underrepresentation in hospital leadership.
Here at Ambry, we have gender representation across all departments. With so many female employees, we can encourage and develop other women and cultivate gender equality.
As you know, May is Asian American and Pacific Islander (AAPI) Heritage Month. What does it mean to you?
It's not well known that Asian Americans have a long history in the United States. I'm a first-generation American, but many Asians lived here before WWI and came during the California Gold Rush. Regardless, whether we were born here or immigrated, we're still American.
My husband is Japanese American, and his extended family immigrated here in the late 1800s. His grandparents were then born and raised in Los Angeles, but they were still sent to the internment camps during WWII. Knowing the prejudices we faced back then and the ones we continue to encounter now, it's important to celebrate Asian Americans as a big part of our nation's history.
It's also inspiring to see people voice support for Asian Americans to counteract the current rise in hate crimes. This month gives people another opportunity to show support for us and acknowledge our contributions to this country.
Below: Chia with her husband, Mark, and two kids, Aidan and Gwendolyn.