In recognition of Colon Cancer Awareness Month, Ambry would like to share the story of Jane and Julie Smith (not their real names) – sisters and cancer survivors. Jane was diagnosed with colon cancer in 2004 at the age of 36. While she was concerned about her diagnosis and family history of ovarian cancer, genetic testing was not widely available at this time.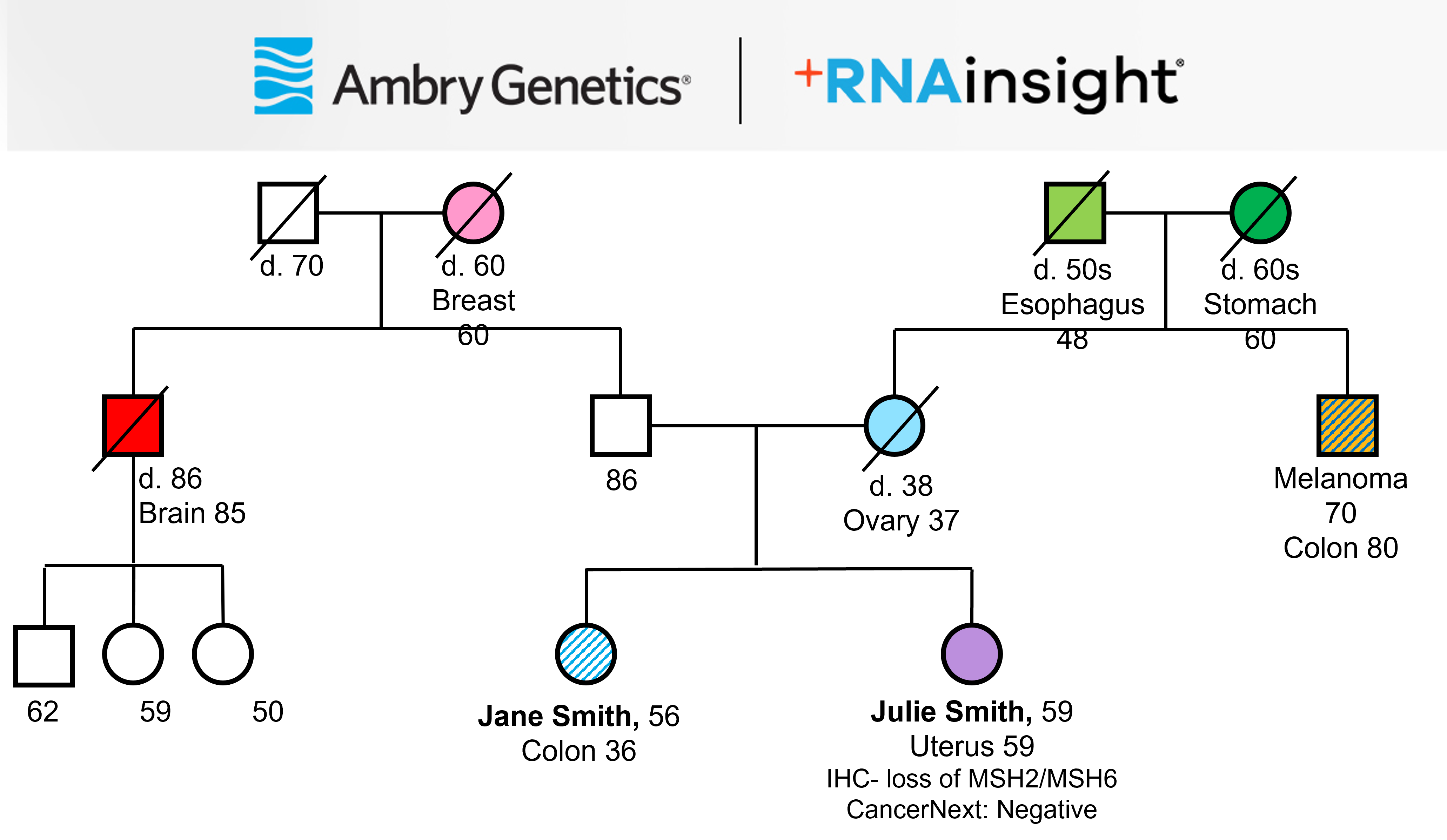 In 2020, Jane's 59- year-old sister (Julie) was diagnosed with uterine cancer that presented with tumor characteristics usually associated with Lynch syndrome. Because of this diagnosis, Julie was referred to a genetic counselor who recommended Ambry's CancerNext® panel, which was negative.
Lynch syndrome is a genetic condition that increases the risk of developing certain types of cancers, especially colon cancer, as well as other cancers such as endometrial, ovarian, stomach, pancreatic, urinary tract and skin cancers and is due to an inherited mutation in a gene that normally helps to repair damaged DNA. People with Lynch syndrome may develop cancers at a younger age and have a higher risk of multiple cancers.1 Approximately 1 in 279 individuals in the United States have Lynch syndrome, making it the most common cause of hereditary colorectal cancer.2
At her annual exam, Jane told her GYN provider about her sister's endometrial cancer diagnosis. Her GYN was concerned about Jane's personal and family history and referred her for genetic counseling. Jane's genetic counselor also recommended genetic testing for Lynch syndrome, as well as other genes associated with colon cancer, through Ambry's CancerNext+RNAinsight®.
Jane's testing revealed a deep intronic, likely pathogenic variant (c.2458+976A>G) in the MSH2 gene. However, this specific variant wasn't identified in DNA testing alone. Only when paired with +RNAinsight were we able to confirm that the two sisters have Lynch syndrome, leading to more targeted treatment and better preventative medical management.
Identification of this familial mutation also allows for predictive testing in other relatives allowing for them to take control of their cancer risks. Studies have shown a 65% reduction in mortality and a 62% reduction in colon cancer incidence in patients with Lynch syndrome with customized medical management.3
Ambry's +RNAinsight genetic testing saved lives and preserved the quality of life for this family and others.
References:
Idos G, Valle L. Lynch Syndrome. 2004 Feb 5 [Updated 2021 Feb 4]. In: Adam MP, Everman DB, Mirzaa GM, et al., editors. GeneReviews® [Internet]. Seattle (WA): University of Washington, Seattle; 1993-2023. Available from: https://www.ncbi.nlm.nih.gov/books/NBK1211/
Colorectal cancer statistics: How common is colorectal cancer? Colorectal Cancer Statistics: How Common Is Colorectal Cancer? https://www.cancer.org/cancer/colon-rectal-cancer/about/key-statistics.html#:~:text=Overall%2C%20the%20lifetime%20risk%20of,risk%20factors%20for%20colorectal%20cancer . Accessed March 9, 2023.

Järvinen H.J., Aarnio M., Mustonen H., Aktan-Collan K., Aaltonen L.A., Peltomäki P., De La Chapelle A., Mecklin J.P. Controlled 15-year trial on screening for colorectal cancer in families with hereditary nonpolyposis colorectal cancer. Gastroenterology. 2000;118:829–834. doi: 10.1016/S0016-5085(00)70168-5