Amy Byer Shainman, also known as BRCAResponder, is a patient advocate, author, and p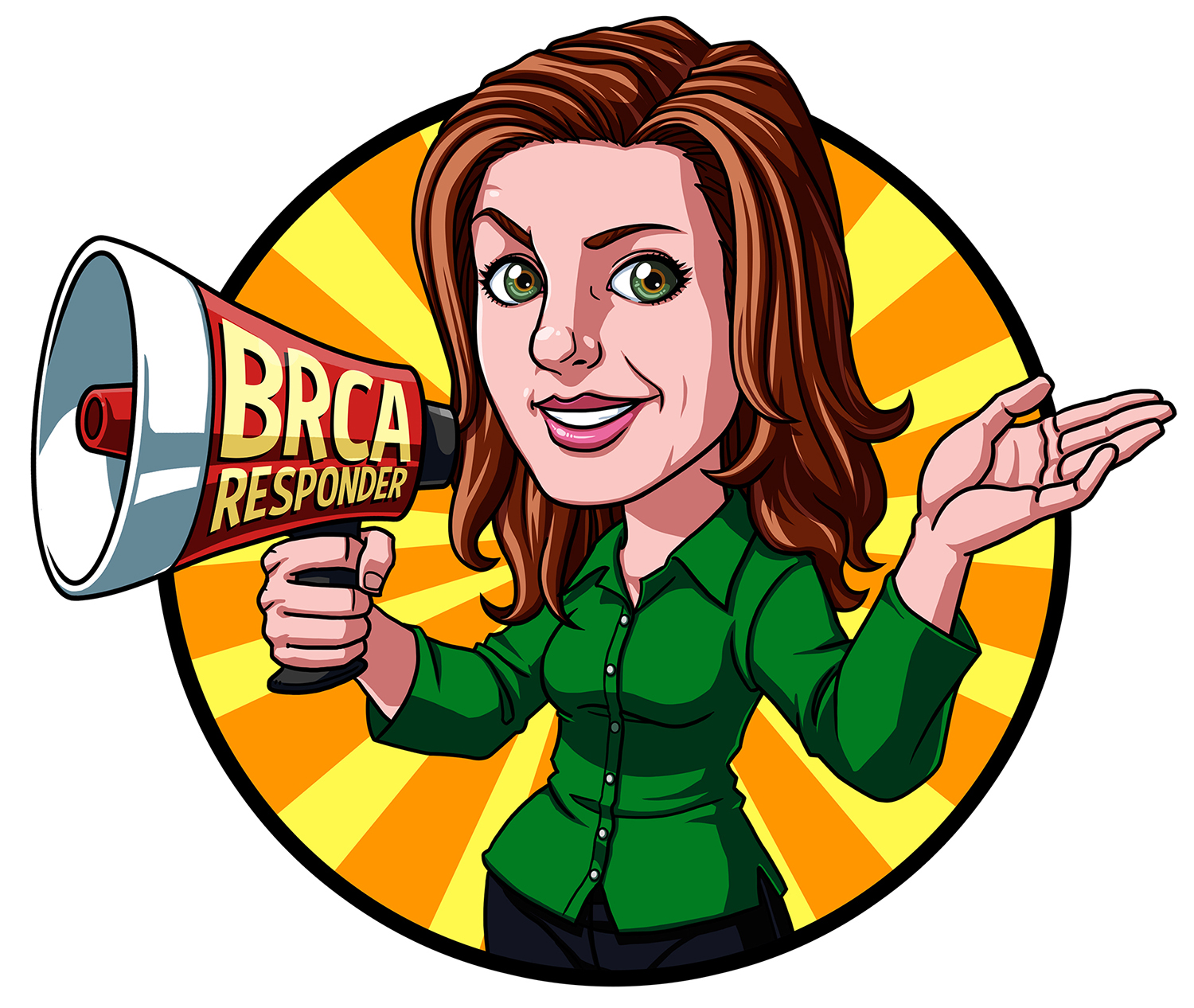 roducer who provides support and education related to having a pathogenic variant in BRCA1/2 or other cancer predisposition genes. We connected with her ahead of National Previvor Day and Hereditary Breast and Ovarian Cancer Week. 
Amy's sister was diagnosed with ovarian and uterine cancers in 2008 at age 48. It was only when her sister was at an ovarian cancer conference where she learned about BRCA gene mutations that she realized she should have genetic testing.  After testing BRCA1+, meaning she was found to have a pathogenic variant or mutation in the BRCA1 gene, her sister shared her genetic test result with the rest of the family. Amy soon underwent genetic testing and was also found to be BRCA1+.  The sisters and the family now had an answer to why their paternal grandmother died of metastatic breast cancer at age 33. 
Given her BRCA+ status and her family history, Amy made the decision to have risk-reducing bilateral mastectomies, hysterectomy, and oophorectomies (ovary removal) in 2010. Reflecting on this decision she said, "Right after my surgeries, I felt relief because triple negative breast cancer, which is more commonly associated with a BRCA1 mutation, and ovarian cancer are scary. My breast surgeon says, 'the best cancer is the one you never get.'  But looking back now, I also see they were difficult decisions and recoveries—whether to have another child before having my ovaries removed, the challenge of surgical menopause—I didn't know how difficult surgical menopause could be."
Amy shared her experience navigating the medical, emotional, and family dynamics of these decisions in her medical memoir Resurrection Lily: The BRCA Gene, Hereditary Cancer & Lifesaving Whispers from the Grandmother I Never Knew. It also details her evolution from newly diagnosed previvor to advocate.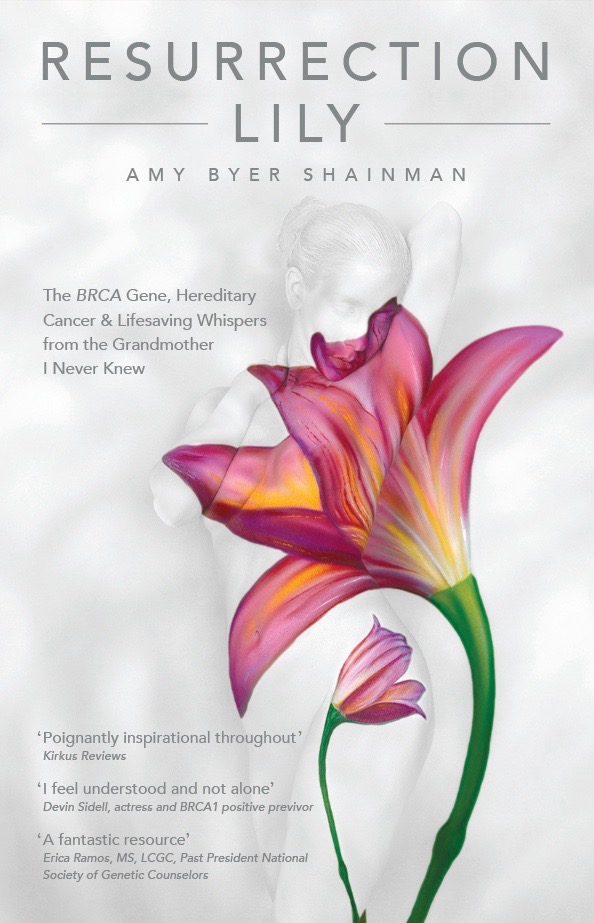 When asked what she hopes people take from her book, she shared, "First, I hope my story resonates with people in some way. Whether it's learning something new, relating to my journey, or finding my book an engaging read. Through the expert commentary, I hope both women and men learn the basics of BRCA1 and 2 and the associated cancer risks. Also, a big takeaway is that hereditary cancer risk can be caused by mutations in many genes other than BRCA1 and BRCA2. If people are concerned about their individual cancer risk, I want them to realize that it's in their best interest to speak to the most qualified provider, a certified genetic counselor. Why? Genetic tests are only meaningful/useful for you if you have the correct cancer risk assessment, the correct genetic test, and the correct genetic test interpretation. I want people to be inspired to be their own advocates and to speak up for themselves and their healthcare."
Amy explained that she is a "previvor," a person who is at increased risk of cancer due to a hereditary cause but has never had cancer.  Amy reflected on what is the same and what has changed in the last 15 years in the previvor community. "We still see people who receive positive genetic test results and who are completely surprised by their results, despite their strong family history or that we have known about the BRCA genes for more than 20 years...But on the other hand, I'm seeing younger people find out they have a gene mutation—in their 20s and 30s instead of in their 40s and 50s. And we now know about many more genes. It's a chance to be more vigilant with health screenings at a younger age, make a prevention plan earlier, and hopefully avoid a cancer diagnosis. That gives me hope."
Amy is a leader in the BRCA and broader previvor advocacy community. She is an administrator of the largest BRCA support group on social media and a digital ambassador of the National Society of Genetic Counselors.  When asked what a patient advocate does, she explained, "As an advocate, I help people through my own experience, though everyone's experience is personal, and they have to do what is right for them." She explained that there are many avenues to advocacy—supporting people and caregivers one on one, working with advocacy organizations, focusing on legal matters or healthcare policy, and even educating through entertainment. 
Amy put her creativity to work as a producer of Pink & Blue: Colors of Hereditary Cancer, a 2015 documentary examining the risks and choices that those with BRCA mutations face as well as highlighting that men are also at risk. She is also producing a scripted feature film that highlights what it's like to be a BRCA-positive woman, starring Devin Sidell, who is actually BRCA+. 
When asked what she wanted previvors to know, Amy shared:
●    Seek the guidance and support of a genetic counselor 
●    If you are considering screening versus risk-reducing surgeries to manage cancer risk, learn about all your options—the benefits, risks, and alternatives. 
●    If you are considering risk-reducing surgery such as ovary removal, seek medical expertise about the side effects of surgical menopause and how to manage them.
●    Consider connecting with a community and seek support. There are many fantastic patient advocates and support groups on social media. There are also many in-person support groups available, including through local cancer centers. Reach out to Amy on social media, and she can help connect you to one. 
●    Breathe. It's ok to be overwhelmed. It's ok to feel however you are feeling. Be good to yourself. If you are feeling overwhelmed, consider seeking support from a mental health professional. 
●    Friends and family can be very supportive, but friends and family can also be very unsupportive. No one else can live in your body. This is your life, and ultimately, you need to do what's right for you. 
For highlights from our interview with Amy, check out this video. 
Follow Amy on:
TWITTER/X   https://twitter.com/BRCAresponder
INSTAGRAM: https://www.instagram.com/brcaresponder/ 
FACEBOOK https://www.facebook.com/BRCAresponder
WEBSITE: http://brcaresponder.com/
BLOG: https://thebrcaresponder.blogspot.com/
YOUTUBE: https://www.youtube.com/@BRCAresponder
THREADS: https://www.threads.net/@brcaresponder