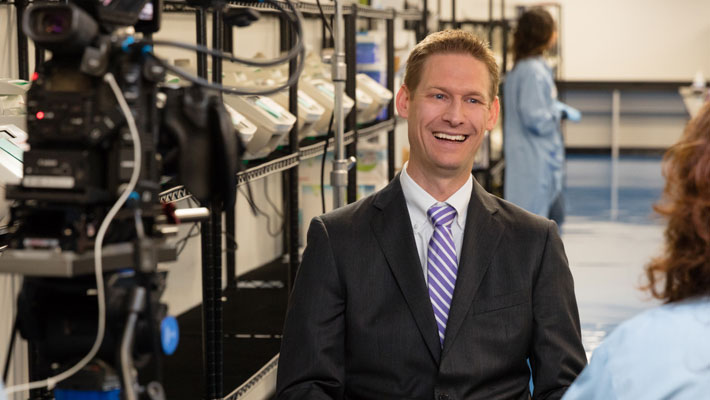 Genetic testing has helped research for breast cancer progress immeasurably, and thanks to some high profile cases, more women are opting for genetic testing when they go in for mammograms and other checkups. As a result, more companies are offering a variety of genetic tests geared towards detecting mutations in the BRCA1 and BRCA2 genes.
Though the increased rate of testing has nodoubt saved lives, unfortunately, many potential patients do not know what makes for a quality testing lab, or that there is much more to a genetic test than simply submitting a sample to their doctor.
To address these issues, Ambry Genetics' Chief Executive Officer Aaron Elliott, Ph.D. and Ambry Director of Medical Affairs and Breast Cancer Surgeon Robina Smith, M.D. will join breast cancer survivor Christine Fenwick on Lifetime Television's "Access Health" program on November 16th at 7:30am Eastern and Pacific time.
They will discuss the impact of identifying a patient's risk for hereditary cancer through family history and the importance utilizing a high quality genetic testing laboratory.     
The Access Health episode will feature a general overview of genetics, the three basic categories of genetic testing, a personal anecdote, and also discusses Ambry's genetic testing theory through its SuperLab.
This feature will be intertwined with Fenwick's intimate story about her experience in testing positive for the ATM gene and how it affected her daughter's decision to also have genetic testing. The segment also provides insight into the importance of early detection and highlights the mental and emotional impact genetic test results can have on a family. The show also focuses on Ambry's big data sharing program, AmbryShare and how it has and continues to impact research for the medical community through it's free distribution of anonymized data. It is through this program that genes like TP53 can be better understood, and more connections between genetic mutations and cancers can be made.
Thanks to recent research at Ambry, Oncology Product Manager, Michelle Jackson explains that germline gene mutations, namely the BRCA2 gene, can also be linked to primary brain tumors. Read more about this in our recent blog post.
Stay tuned to Ambry's blog, social media channels and newsletter for more updates and links to the feature.