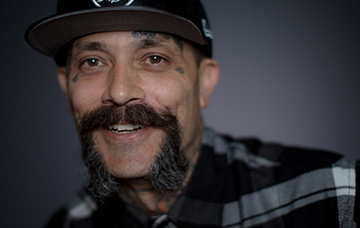 The many male faces at Ambry are becoming a little scruffier in support of 'Movember,' an initiative dedicated to raising awareness about men's health. While our guys forgo the barber and/or a daily shave, at Ambry, the meaning behind 'Movember' goes deeper than the mustachioed men on campus.
 Ambry's constant push for more clinical research in addition to our open-access data share program, AmbryShare, encourages further testing development from both within Ambry and through outside resources, all in the hopes of developing tailored testing options for clinicians and their patients.
In 2015, Ambry's male breast cancer data was presented at the San Antonio Breast Cancer Symposium (SABCS). The "Multi-Gene Testing in a Male Breast Cancer Cohort: Insights and Unexpected Results" (Pritzlaff, Summerour, McFarland, et al.) study revealed that mutations in BRCA2, CHEK2, PALB2, and ATM genes were the most frequent among men with breast cancer whose DNA had been sequenced in  a multi-gene panel at Ambry.
The study also found that multi-gene testing identified mutations in male breast cancer patients that would not have been identified with a single gene testing approach.
While a cancer diagnosis at a younger age and also a family history of cancer usually increase the likelihood of having hereditary cancer, that wasn't the case in the male breast cancer data.  The National Comprehensive Cancer Network® states and our data confirms that all men with breast cancer should have genetic counseling and testing regardless of the age they were diagnosed, whether they have family history of cancer or not.
Prostate cancer is the second most common cancer in men in the United States, following skin cancer, according to the National Cancer Institute. Approximately 14% of men will be diagnosed with prostate cancer during their lifetime.
Ambry also presented prostate cancer data at this year's American Society of Clinical Oncology (ASCO).  "Gender Bias: Underdiagnosing Hereditary Cancer in Men with Prostate Cancer" (Bowling, Reineke, McFarland, et al.), found that mutations in BRCA2, ATM, CHEK2, and BRCA1 genes were the most frequent among men with prostate cancer who had a multi-gene panel performed at Ambry.
Despite the fact that about 96% of people who have had a hereditary cancer multi-gene panel performed at Ambry are females.  Men with prostate cancer were more likely to test positive for a germline genetic mutation than women with breast cancer (14.2% vs 7.9%).While most women with breast cancer usually had genetic testing within a year of their diagnosis, for men with prostate cancer, it often took 6 years or longer for them to have genetic testing. Overall, this study suggests that hereditary cancer may be underdiagnosed in men with prostate cancer.
In support of Movember, Ambry offers several genetic testing options that focus or can be tailored to prostate and/or male breast cancer. Our recently developed ProstateNext genetic test analyzes 14 high and moderate risk genes associated with prostate and/or male breast cancer and features a 14-21 day turnaround time.
For more details about these tests, when to consider genetic testing, as well as other genetic testing options, read our Cancer Portfolio, which is available for download here.
Show your support for men's health awareness month and join the Ambry team in support of the Movember Foundation's annual drive. For more information about how to donate to Ambry's team, grow your mustache and/or donate to the foundation, click here.
Stayed tuned to Ambry's newsletter, blog, and social media channels throughout the month of November for updates about men's health