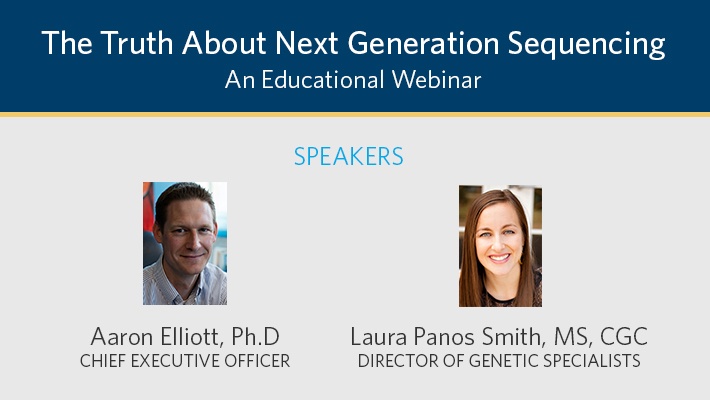 In the months following the National Society of Genetic Counselor's (NSGC) annual conference, Ambry's paper on Sanger confirmation has made headlines throughout the genetic testing industry and has upended conventional thinking regarding Next generation sequencing. What started as a Sponsored Evening Session presentation at NSGC, has since been highlighted throughout several media platforms and is now set to be featured in a webinar available to the public.
 On November 15th, Ambry is giving the public a chance to hear all about the paper from the authors themselves in a webinar called "Getting Down and Dirty with Ambry: The Truth About NGS." Ambry speakers, Aaron Elliott, Ph. D., CEO and Laura Panos Smith, Director of Genetic Specialists, MS, CGC will highlight the importance of Sanger confirmation with Next generation sequencing (NGS).
The webinar will also feature a special 15 minute Q&A session with Dr. Elliott at the webinar's conclusion. Dr. Elliott will be taking this opportunity to publicly answer questions from the audience, including any members of the press who wish to attend.
"It is dangerous to have no Sanger confirmation at all," Dr. Elliott said in a recent GenomeWeb article. "It's possible to set conservative thresholds for calling variants from NGS data to limit the need for Sanger confirmation, however, it requires a large initial sample size in the tens of thousands."
This presentation is also now available to view for Continuing Education Units (CEU's).
This webinar will make the case for quality genetic testing and why it is an important differentiator between labs. It also exposes the risk of relying on tests that are not Sanger confirmed and why this method is an essential part of testing accuracy.
For more on the information presented, the full research publication "Sanger Confirmation is Required to Achieve Optimal Sensitivity and Specificity in Next-Generation Sequencing Panel Testing," is now available online.
For more information about this publication, including our blog, press coverage and Test Accuracy brochure, click here.