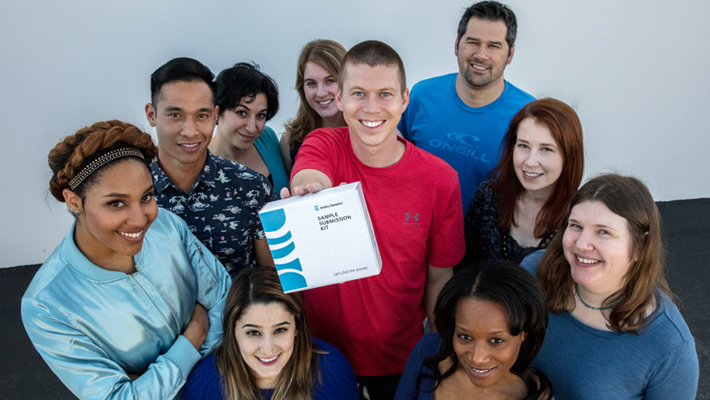 Colon cancer is the third most common cancer diagnosed in both men and women in the United States, and more than 95,000 new cases of colon cancer and 39,000 new cases of rectal cancer are estimated for 2017, according to the American Cancer Society.
Up to 10% of colorectal cancer is hereditary, or caused by inherited gene mutations. Hereditary colorectal cancer often goes undetected due to a lack knowledge and screening.
The good news is that when these cancers are detected early, clinicians and patients are able to take proper preventive measures, leading to longer and higher quality lives.
If you are wondering how to talk to your patients about genetic testing, here are four important points to share with them:
Tailored Cancer Screenings: Regular colonoscopies can help with early detection and prevention. Individuals with hereditary colorectal cancer may need earlier and more frequent screening for colorectal and other cancers.
 
Preventive surgery: This can significantly reduce a patient's risk for cancer, and for those testing positive for a mutation, in certain situations.
 
Medical Management/Treatment: According to each patient's unique genetic presentation, different management and treatment options may need to be considered. This can sometimes be determined through genetic testing.
 
Family Members: Information from genetic testing is also important for family members who may have the same genetic condition. Family members can then choose to have additional testing and screenings to help with early detection and prevention. 
It is important to know that not every person with a personal or family history of cancer will need genetic testing.
"There are criteria for who should be tested that are based on personal and family history of cancer," said Jessica Profato, MS, CGC, Ambry Oncology Product Manager. "If someone has a personal or family history of colorectal cancer, they should talk to their healthcare provider to learn more about their options."
Ambry's recent research "What about the guys? An assessment of gender difference in hereditary colorectal cancer testing" presented at the 2017 Gastrointestinal Cancer Symposium identified gender differences in hereditary colorectal cancer diagnosis rates and found that women are more likely than men to undergo genetic testing, but men and women were equally likely to meet National Comprehensive Cancer Network (NCCN) guidelines for Lynch syndrome testing. 
This study concluded that more men with hereditary colorectal cancer can benefit from genetic testing and highlights the important opportunity to educate and identify more men with hereditary colorectal cancer.
Additionally, the Ambry study "Importance of Genetic Testing for Patients with Multiple Colorectal Cancer Primaries" highlights that genetic testing is important for individuals who have a personal history of more than one colorectal cancer.
The study found these individuals are more likely to test positive for a hereditary cancer gene mutation when compared to individuals with a personal history of one colorectal cancer, especially when one of the cancers was diagnosed under age 50. It further emphasized the importance of considering genetic testing for individuals with a personal history of multiple colorectal cancers.
Regular screenings, genetic testing and lifestyle changes can help reduce your patient's risk for colorectal cancer.
Ambry offers a variety of testing options for patients with hereditary colorectal cancer, including ColoNext, our next generation sequencing panel that simultaneously analyzes 17 genes that are associated with hereditary colorectal cancer.
For more information about our testing options for hereditary cancer, click here.
You can also check out the activities that Ambry is participating in for Colorectal Cancer Awareness Month on our Facebook page.