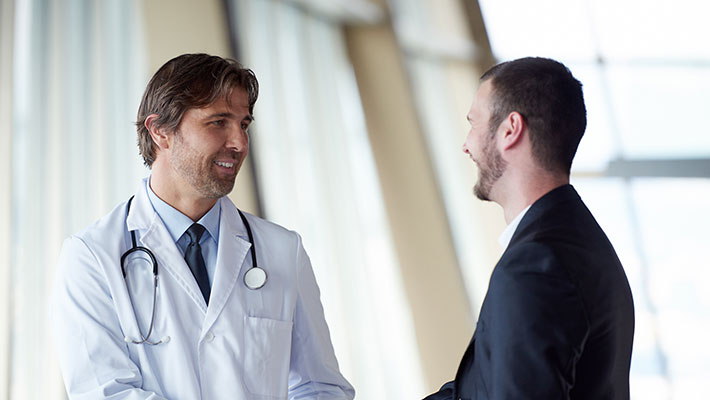 The short answer is: Genetic testing is possible, but depends on other factors.
The question of whether genetic testing is possible for patients with a history of hematological cancer comes up often in the clinical setting and in the testing laboratory. This makes sense since genetic testing is performed on DNA isolated from white blood cells (leukocytes) that originate in the bone marrow – which is typically impacted by hematological cancer.
Hematological cancers, particularly leukemias, can complicate germline genetic testing from a patient's blood or saliva sample; the presence of malignancy increases the chance that cells with detectable levels of somatic mutations are present.
Genetic testing for patients with hematological cancer can be tricky, but the tips found here simplify the process
Next generation sequencing (NGS) essentially tests a patient's tumor, since some portion of the cells that produce the white blood cell components are the same cells that have become cancerous, resulting in the leukemia diagnosis. This makes it difficult – if not impossible – to determine if the mutation(s) detected in a patient is/are somatic or germline in origin, when it comes to NGS.
Distinguishing this is crucial. Somatic mutations are limited to the malignancy/tumor and are relevant to the patient for management of their cancer. However, somatic mutations have no risk implications to the patient for other cancers, and have no cancer risk implications to their family members. On the other hand, germline mutations have cancer risk implications for patients and their family members.
Quick Tips
Patients and families with hematological cancer may need genetic testing, so here are some tips to help you when considering testing with blood/saliva samples:
Tip 1: Ask About Transplant History
First, determine if your patient had a transplant during treatment for their hematological cancer, and what type:

Bone marrow transplant or stem cell transplant from a donor (i.e. allogenic transplants), no matter when done, are contraindications to all types of genetic testing using a blood/saliva sample. In these cases, an alternative specimen must be used (see "Alternative Samples" below).
Genetic testing using a blood/saliva sample may be possible if your patient had an autologous bone marrow/stem cell transplant.
Tip 2: Consider Limited Genetic Testing
Genetic testing may be possible with a blood/saliva sample, if it is limited to single site analysis or single genes with a clear clinical association. For example, CDH1 testing may be possible, if there is a clear history of gastric cancer in your patient /family history. This is because it is easier to interpret the results in these situations.
Tip 3: Current Disease Status Matters
Patients with active hematological cancer may not be able to have genetic testing with a blood/saliva sample, but people with a history of hematological cancer and no active diagnosis can be tested.

Genetic testing with a blood/saliva sample may be possible if it has been more than 20 years since a patient has had an active diagnosis of any hematological cancer.
Those with a more recent diagnosis are often eligible for testing, as long as the disease is resolved.
Patients with active diagnosis or history of CLL cannot have genetic testing with a blood/saliva samples. In these cases, an alternative specimen must be used (see "Alternative Samples" below).
Tip 4: Saliva Samples Face the Same Issues
Unfortunately, using a saliva kit is not a way to avoid issues tied to a patient having hematological cancer. Genetic testing uses the same white blood cell components in saliva that are found in a blood sample – the DNA source is the same, therefore the issues are the same.
Alternative Samples
If blood or saliva samples are not accepted for the genetic testing your patient needs, cultured skin fibroblasts are the preferred alternative. Some laboratories accept uncultured skin biopsy samples, while others require them to be cultured already. Ambry has a laboratory partner that offers cell culturing for a separate fee.
Ask Questions First, Save Time Later
Even before you get a sample from your patient, providing this information for your genetic testing laboratory is helpful and saves time in the long run. Click here to view a printable sheet of questions you can use when you meet with a patient. He or she may also know the answers to many of these questions. Including a copy of this sheet with the sample sent to your testing laboratory helps them when they are processing it and reviewing your test order. 
Genetic testing for those with hematological cancer can be tricky, with a little information provided beforehand, can be possible.
If all else fails, contact your testing laboratory before your patient's sample is collected. At Ambry, we have a dedicated team available to answer these types of questions for you at any time.
References to Learn More
 
Xie M, et al. Age-related mutations associated with clonal hematopoietic expansion and malignancies. Nat Med. 2014 Dec;20(12):1472-8.
Wong TN, et al. Role of TP53 mutations in the origin and evolution of therapy-related acute myeloid leukaemia. Nature. 2015 Feb 26;518(7540):552-5.
Merlevede J, et al. Mutation allele burden remains unchanged in chronic myelomonocytic leukaemia responding to hypomethylating agents. Nat Commun. 2016 Feb 24;7:10767.