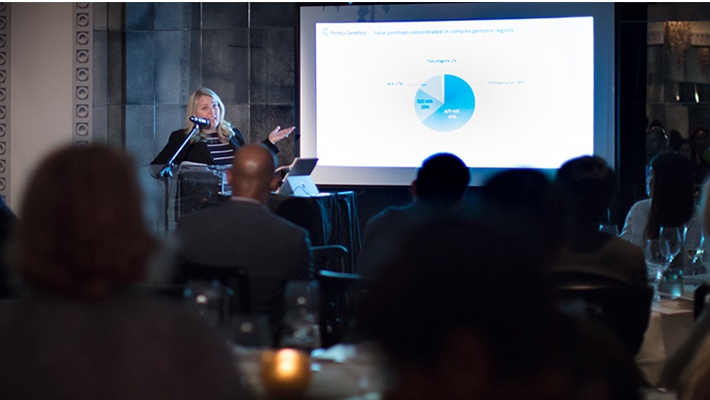 In the first of seven dinner series events, on Tuesday, January 31st, Ambry Genetics presented to more than 45 attendees at Spago in Beverly Hills, California. 
The "AmbrySpeaks Tour—Accuracy and Innovation in the Era of Collaborative Genetics" challenges the common misconception that Next-generation sequencing (NGS) is 100 percent accurate, and reinforces the need for Sanger confirmation in addition to NGS for optimal sensitivity and specificity in genetic testing. Read more about our research here.
Ambry's Corporate Genetic Specialist Alex Meyer, MS, CGC, described the risks for a patient and their clinician when shortcuts are taken by other labs who don't confirm their NGS results. In her hypothetical example, Ms. Meyer describes a woman who tested positive for a BRCA2 mutation by NGS alone. The lab and clinician, having found an answer, did not pursue reflex testing to sequence additional cancer genes. Sanger sequencing to screen for the mutation in her two daughters, later revealed the BRCA2 mutation was a false positive in the original results. Additional testing detected a PALB2 mutation in the patient and one of her daughters. If the first NGS result had undergone confirmation by Sanger and failed, the testing would have continued to reveal the PALB2 mutation, which changes the patient's treatment plan significantly.
"This example is significant for two different reasons," said Ms. Meyer. "This patient was told she had a BRCA2 mutation, when she did not, and the lab failed to detect the real mutation that was present in her and her daughter."
The majority of the evening was led by Ambry's Director of Emerging Genetic Medicine, Brigette Tippin Davis, PhD, who walked the audience through the technological strengths and weaknesses of NGS. She explained that some labs might claim 100% testing accuracy with NGS-only methods; however, Ambry's published research shows that it would be wise not to accept these claims and that Sanger confirmation has a significant impact on testing accuracy.
"When you validate a test, you're not done," said Dr. Davis during her presentation. "You have to continually measure quality on thousands of real samples because at some point, you will run across something that you could not have predicted or overlooked during validation. Through Ambry's quality assurance Sanger confirmation process, we've found that NGS can be wrong up to 2% of the time."
In addition to discussing Ambry's testing methods, Dr. Davis also spoke about Ambry's collaborative data sharing program, AmbryShare, and how clinicians and patients can contribute to the growing database.
"I'm a very big supporter of data sharing and I don't think it is proprietary information," said Sylvia Estrada, Nurse Practitioner at Cedars Sinai Medical Center. "I think that it's very important to collaborate with other researchers, so I truly admire Ambry's commitment to testing accuracy and data sharing. Ambry is the only lab I use because of their commitment to patients."
The presentation concluded with a 15 minute Q&A session where clinicians were able to address their own personal scenarios as well as express other thoughts about the presented research and technology.
"I thought the presentation was really helpful and the presenters did a really good job of breaking things down," said Katie Cohen, Nurse Practitioner at Beverly Hills Cancer Center. "I order a lot of the BRCA panels because that's the doctor's main focus, so understanding the reflex testing and how to weed out false positives and false negatives helps me explain it to patients better."
Ambry will host six more dinner presentations, don't miss out! Our next stop is on February 7th in New York City.
For more information and to RSVP to your local event, click here.