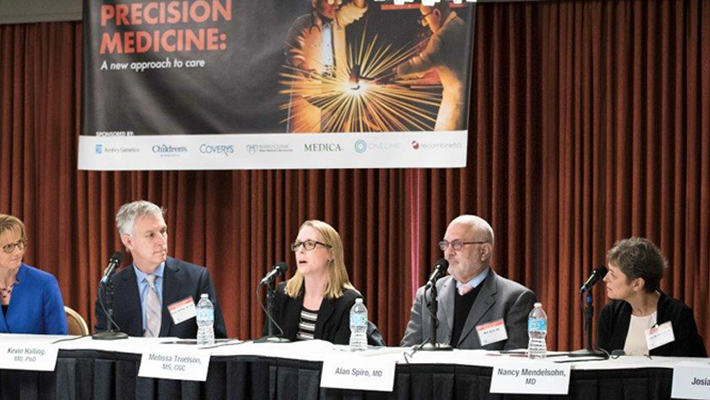 *Editor's Note: For this article, we interviewed one of Ambry's genetic counselors, Melissa Truelson, MS, CGC, who was instrumental in passing local healthcare legislation in her home state of Minnesota.
One of Ambry's genetic counselors, Melissa Truelson, MS, CGC, continually strives to advance qualified genetic counseling in her home state of Minnesota and beyond.
Over the past three years, Truelson and fellow Ambry genetic counselor, Ashley Deckman, MS, CGC, were instrumental in pushing legislation that requires licensure of all genetic counselors in the state, as co-chairs of the Minnesota Genetic Counselors Association's public policy committee.
Recently, Truelson and Deckman co-authored an article that was featured on the April cover of Minnesota Physician magazine. Their article explained the importance of the recent licensing requirement for genetic counselors.
"Genetic Counselors: Board Licensure and an Expanding Role" details the positive impact of the new licensing legislation for everyone involved in genetic testing. Requiring genetic counselors to be licensed increases the ease and confidence with which physicians and insurers can locate and recommend qualified GCs to their clients.
As a result of this new law, licensed genetic counselors in Minnesota are now legally able to order genetic tests, shifting the burden away from physicians. In addition, this licensing requirement holds GCs accountable for the care they provide by creating a formal complaint investigation system facilitated by the Board of Medical Practice. For genetic counselors, requiring state licensing strengthens their title and qualifications, as falsely using titles such as "genetic counselor" or "genetic specialist" can now result in disciplinary action.
Truelson explains that licensing genetic counselors supports Ambry's mission to understand all human disease by empowering patients to understand their results and the impact those results may have on their healthcare and family members in the future.
"It all comes back to who is understanding the disease," Truelson said. "Licensing genetic counselors is a piece of that. It's getting accurate information back to patients so they can act on it, so they can do something tangible with that information."
Truelson's involvement does not stop there – she continues to advocate for the advancement of genetics in healthcare, as the only genetic counselor to participate in the 47th Session of the Minnesota Health Care Roundtable.
At the 47th Minnesota Health Care Roundtable, Truelson and six prominent figures in the genetics community weighed in on important industry topics. Precision medicine, which aims to find specific treatments for specific patients, was a central theme this year. When asked how precision medicine is already present in the medical world, Truelson cited Ambry's EpiRapid 16-gene panel as an example, as results from this test can provide therapeutic indications for epilepsy. Truelson also praised Ambry's cardiology and neurology tests that are geared toward determining specific treatments. She touched on Ambry's paired testing options, saying "Our TumorNext tests are so exciting; you are able to look at a tumor and determine if a person's cancer is inherited or acquired. There are a lot of patients treated as if they have an inherited condition when it's not, and they don't need to be screened excessively."
Melissa, along with other licensed GCs, play a critical role in the expansion of precision medicine through accurately interpreting results and recommending the most effective treatment for patients based on these results. Truelson notes:
"Interpreting genetic test results in the context of a patient's personal and family history is rarely straightforward. Having access to licensed genetic counselors who are dedicated not only to identifying the most efficient and appropriate genetic test but also to explaining complex results in an understandable and sensitive manner will be advantageous for physicians less familiar with rapidly changing genetic testing menus and insurance requirements for testing coverage."
Ambry's genetic tests analyze mutations that can occur in as little as a single gene, but can still cause consequential phenotypic changes. The proper analysis of these mutations by qualified GCs can drive effective, precise treatment.
Scientific collaboration was also an important topic of debate in the symposium. Participants lamented the lack of collaboration in the industry, and how this remains a significant obstacle to integrating precision medicine in healthcare. Truelson explains "It's important for people to realize that as we get smarter, the way we interpret test results and what we do with them may change. Again, collaboration is key."
Truelson is not only an influential representative of her local community in the field of genetics, she exemplifies Ambry's mission to understand all human disease through our data-sharing platform, AmbryShare, and the advancement of the field of genetics through collaborative research. Ambry looks forward to seeing how her contributions to the field of genetics shape the future of the industry!
Read the July edition of Minnesota Physician for coverage of the Minnesota Health Care Roundtable here.