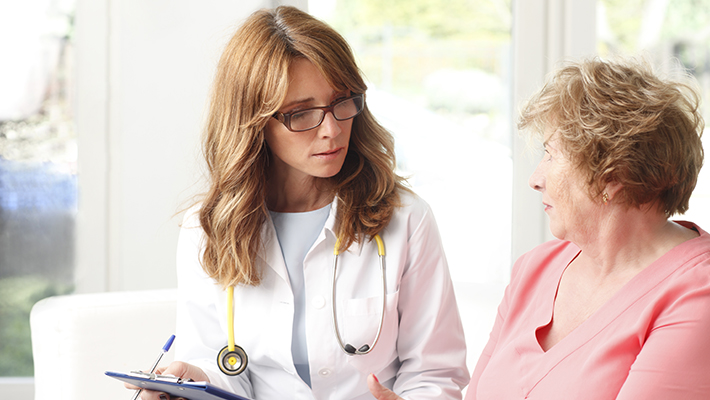 An estimated 22,440 women will be diagnosed with ovarian cancer in 2017. Early detection is critical for successful treatment of this disease, which has a 5-year survival rate of 92.5% for women who are diagnosed with early stage/localized ovarian cancer.1 We hope that Ovarian Cancer Awareness Month will bring more women to their healthcare providers to discuss their personal risk for ovarian cancer, as well as the signs and symptoms of this disease. 
For a firsthand account of the experience of a clinician treating women with ovarian cancer, we interviewed Dr. Wilder, a Gynecologic Oncologist in San Antonio, TX.
1. How did you become interested in Gynecologic Oncology? 
I first became interested in oncology in medical school, but after my grandmother's diagnosis with leukemia and her subsequent treatment and death, I lost interest.  I entered into an Ob/Gyn residency and found my strengths and interests were more surgical in nature.  My mentor during residency was a Gynecologic Oncologist, Dr. Scott Jennings, and much of what I was exposed during this time renewed my interest in taking care of cancer patients.
2. How has treating women with ovarian cancer impacted you? 
My patients have continually kept me grounded.  None of my life challenges compare to the obstacles my patients face and overcome on a regular basis.
3. How have you integrated genetic testing for hereditary ovarian cancer into your practice?
I began using genetic testing during fellowship (1999-2002).  Not long after fellowship, testing became standard care within the Gynecologic Oncology community. Our role is unique in that most well characterized and prevalent hereditary cancer syndromes involve gynecologic cancers.  Because of a paucity of genetic counselors in my geographic region, I have had to consistently stay current with genetic testing within my field. 
4. If you were able to give advice to all women during this Ovarian Cancer Awareness month, what would it be?
I would recommend being persistent and a positive attitude.  These are the most important qualities a patient can have when facing a new cancer diagnosis. The good news is that the prognosis for advanced ovarian cancer has improved steadily in my short 12 year career and I do not expect that to change.
It is important to know that up to 25% of ovarian cancer is due to a hereditary cause, such as an inherited mutation in the BRCA1 or BRCA2 gene. The National Comprehensive Cancer Network (NCCN®) and Society of Gynecologic Oncology (SGO) has recommended consideration of genetic testing for all women with epithelial ovarian, Fallopian tube, or primary peritoneal cancer, even in the absence of a family history of cancer.2,3 Women with a closely related family member with a diagnosis of ovarian cancer should also consider genetic testing.
Genetic testing for hereditary ovarian cancer can play an important role in determining the best screening and management plan for your patients. We encourage you to be diligent about collecting each patient's family history of cancer and looking for possible signs for hereditary cancer to help determine if your patient should consider genetic testing.
Benefits of genetic testing include:
 Option to modify frequency and initial age of surveillance for various cancers
 Consideration of prophylactic oophorectomy or other risk-reducing measures, as appropriate
 Option to tailor treatments (e.g. PARP inhibitors for BRCA1/BRCA2)
 Identify at-risk family members
To learn more about our genetic testing options for Ovarian Cancer, click here.
References:
1. Surveillance, Epidemiology, and End Results (SEER) Program (www.seer.cancer.gov)
2. NCCN Clinical Practice Guidelines in Oncology®. Genetic/Familial High-Risk Assessment: Breast and Ovarian. V1.2017
3. SGO Clinical Practice Statement: Genetic Testing for Ovarian Cancer. October 2014