It's hard to believe that it has already been a year since we officially launched +RNAinsight, the first paired DNA/RNA genetic test for hereditary cancer. As we reach this milestone, I wanted to share with you why we set out to launch this product and reflect on our progress in finding more answers for patients.
Ambry Genetics was founded with one goal– to help patients and families. We design and develop every test as if one day, one of our own family members will rely on the results for an answer. It is with this mindset that we set out to improve the diagnostic yield of hereditary cancer testing. I have always been frustrated with the speed of advancements in hereditary cancer diagnostics. Most investments in this area have been fueled by the desire for labs to save money and increase throughput. Although these advancements to increase access to testing are important, there has been minimal effort and progress over the last decade in developing tests that can actually identify more causative mutations in high-risk cancer genes. For example, next-generation sequencing (NGS) provided the ability to test more cancer susceptibility genes at once but had minimal impact on increasing the diagnostic yield of individual genes. Ask any genomic scientist, and they will tell you that we are barely scratching the surface of identifying the molecular causes of hereditary cancer. This is confirmed by the fact that the majority of patients test negative on the most comprehensive DNA panels available despite a clear hereditary component to their cancer. Current DNA tests analyze, on average, only about 5% of a gene (exons and 5-10 base pairs into the intron), so if a pathogenic mutation happens to be in the part of the gene that isn't analyzed - it's missed. Sure, we could easily sequence the whole gene using NGS, but we would have little clue without functional data how to interpret the variants.  Even variants within the current analytical range that impact splicing are extremely challenging to accurately interpret without the corresponding functional data.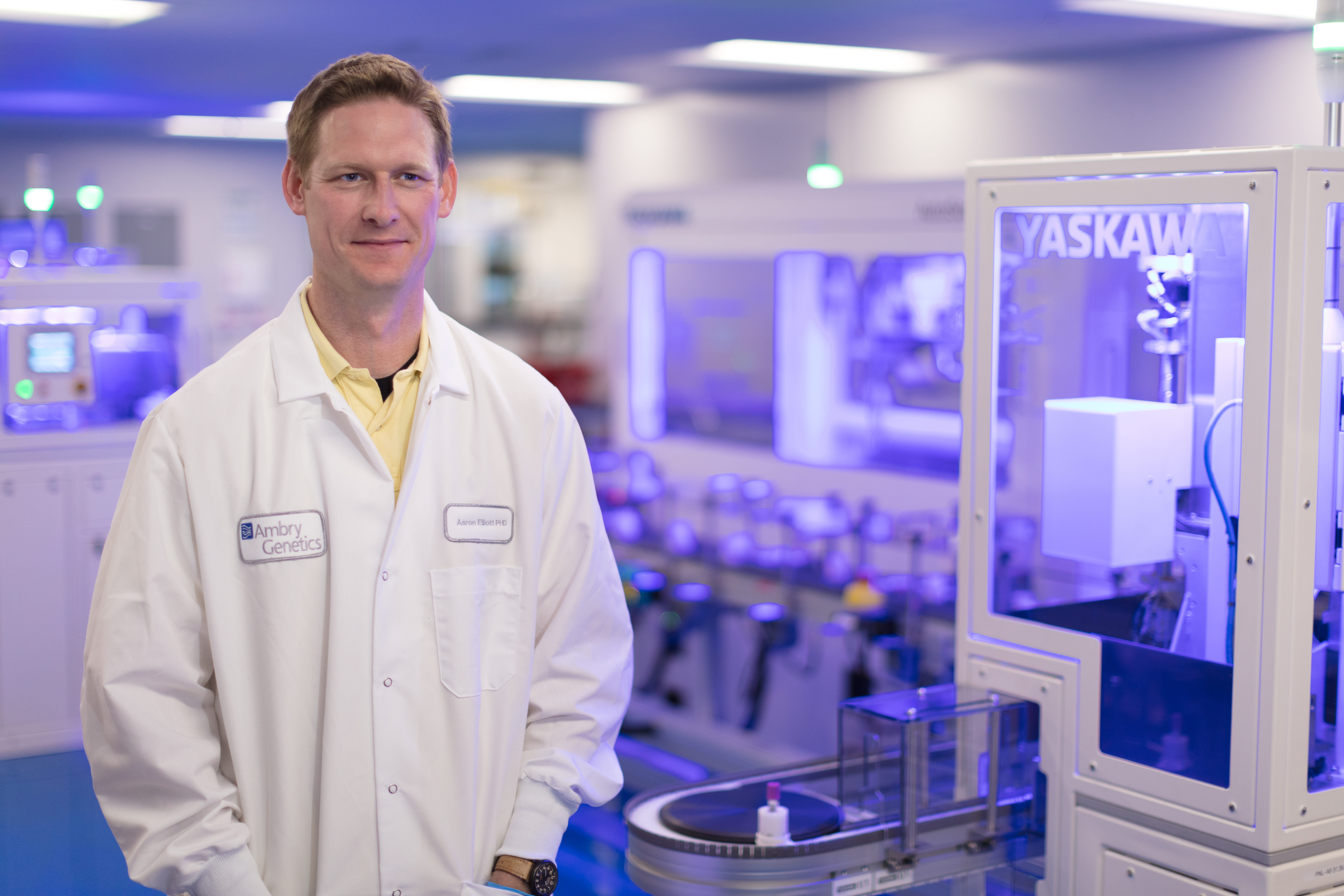 RNA analysis always seemed like the next logical step in detecting more cancer- causing mutations. I spent numerous nights reading publications that detailed tedious detective work where an intronic variant, sometimes deep intronic, was identified as the pathogenic mutation in a family with a strong history of cancer. I always wondered - how frequent is this? Beyond these small case study examples, little RNA expression information was available in the literature for most cancer susceptibility genes. For a major advancement in hereditary cancer testing like RNA analysis to be responsibly introduced into the market, it would take an experienced lab focused in this area. We receive hundreds of thousands of hereditary cancer samples a year and are specifically known for our variant interpretation expertise. I knew nobody was in a better position than Ambry Genetics to contribute to the world's understanding of hereditary cancer.
From our experience in Ambry's Translational Genomics (ATG) Lab, which we launched in 2016, we knew that RNA evidence brought clarity to variants of unknown significance detected on our DNA tests. However, the potential of retrospective testing like this is extremely limited. For starters, since DNA tests only analyze a small percentage of a gene, you immediately miss any intronic variants outside of the test's analytical range. In addition, for those variants that are detected by the DNA test, you need to have an inclination that the variant impacts splicing to be considered for retrospective testing. Logistically, it is also very challenging to convince a patient to come back into the clinic for another blood draw for a variant analysis study that may or may not help them. In fact, in a study, published from our ATG lab experience, only 10% of eligible patients sent in another blood sample for retrospective RNA testing.1 Due to all of these obstacles, even if a variant makes it through retrospective analysis, the turn-around-time is measured in months and not weeks, so the results may not be clinically actionable for the patient in question. 
Upfront RNA testing, now known as +RNAinsight, solves these challenges. With RNA we are now able to analyze 100% of a gene. It allows us to both detect variants that are completely missed by DNA only testing, like deep intronic mutations, and at the same time better classify variants of unknown significance. For example, we have identified clinically actionable pathogenic mutations over 3,000 base pairs into the intron, which no test on the market except +RNAinsight would detect. As a result, we can help a significant number of patients missing out on this key information, with the same turnaround time and cost as the DNA-only test.
We started with a pilot group of cancer institutions and quickly published a peer reviewed prospective study of 1,000 unselected patients sent in for hereditary cancer testing where we showed a 9 percent relative increase in diagnostic yield and a 5% relative decrease in variants of unknown significance compared to DNA only testing across the 18 eligible genes.2
Once we opened the test up to everybody, the demand was like nothing we had ever experienced with a test launch. This was just one of those tests that genetic counselors and clinicians immediately understood the importance of. Those of us in this field must never forget that we are in the business of rare mutation detection, and the impact that detecting a mutation has on a patient, and their family can be dramatic. Hearing the stories of patients who +RNAinsight has helped find an answer for is humbling and a reminder of why continuous innovation is needed.
One story that stood out to me was about a young woman who not only had a strong family history of cancer, but personally had multiple bouts of early-onset breast cancer beginning in her early twenties. Now in her mid-forties, she has late stage ovarian cancer. Over the last 18 years, she has tried everything from BRCA1/2 gene testing to large multi-gene cancer panels to no avail. A painful reminder of how slow scientific progress can be. Unable to identify a pathogenic mutation, her clinician elected not to treat with a PARP-inhibitor, and her family members chose not to perform genetic testing themselves. Her healthcare team recently decided to repeat genetic testing with +RNAinsight. This time around, we identified an intronic BRCA1 variant outside of the typical DNA reporting range. The detrimental impact the variant had on splicing was immediately evident when analyzing the RNA functional data. As a result, we were able to classify the variant as likely pathogenic and provide an end to her and her family's relentless pursuit of finding the answer. Her healthcare team informed us that this result impacted her treatment plan. However, a statement I will never forget is when her clinician informed her that we had found the causative variant; she simply replied, "I wish I had known this earlier."
With +RNAinsight having impacted the variant classification in over 2,000 patients this past year, there are numerous stories like this one. It is a constant reminder, that as an industry, it is our responsibility to have a sense of urgency to improve the diagnostic yield of our testing. Many patients are literally in a race against time.
+RNAinsight is leading a paradigm shift in hereditary cancer testing to look beyond just DNA. Genetic counselor, Rebekah Krukenberg detailed her experience with the test following the identification of a pathogenic MSH2 mutation missed by DNA only testing, "I have a family whose diagnosis has been eluding me for years. I just knew they had Lynch syndrome, but I couldn't prove it until I was able to order RNA testing. RNA has forever changed the lives of every single member of this family, and it has changed the way I want to practice moving forward. I now firmly believe that RNA should be a part of first-line genetic testing for all patients."
We are proud of stories like these, and as a company, these are our greatest wins and accomplishments. This last year has included many other achievements for +RNAinsight, including presentations at conferences, publications, and data sharing efforts. Here are a few of the key milestones since we launched +RNAinsight in late 2019.
November 2019: Presented data from first 2,500 cases at NSGC Annual Conference

December 2019: Received New York State regulatory approval for +RNAinsight

February 2020: Published first prospective study in npj Precision Oncology

June 2020: Novel mutations identified by +RNAinsight were published in ClinVar

September 2020: >2,000 patients and families have been directly impacted by +RNAinsight3
+RNAinsight: A Year in Review
Ambry Genetics has a rich history of promoting progress and innovation in hereditary cancer, from being the first to launch hereditary cancer panels to driving the nail in BRCA1/2 gene patents to now +RNAinsight. As a company, we will always drive to further our understanding of hereditary cancer and find answers for patients in need.
To learn more about +RNAinsight and how it can help your patients, visit +RNAinsight.com.
References:
Karam et al. Assessment of Diagnostic Outcomes of RNA Genetic Testing for Hereditary Cancer. JAMA Network Open. 2019
Landrith et al. Splicing profile by capture RNA-seq identifies pathogenic germline variants in tumor suppressor genes. npj Precision Oncology. 2020
Ambry Genetics, internal data on file