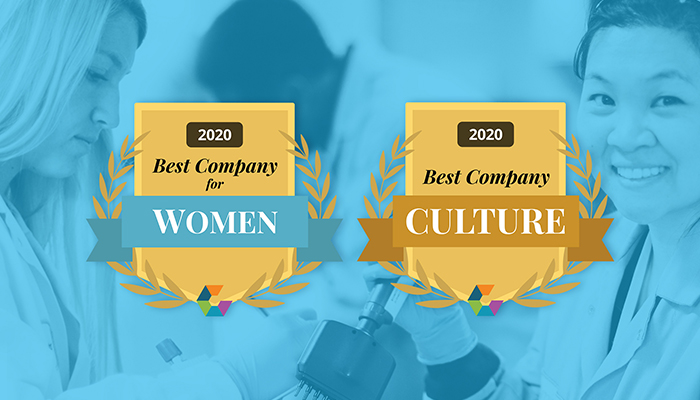 Ambry Genetics has been chosen out of 60,000 companies to receive awards for both Best Company for Women and Best Company Culture by Comparably, a leading workplace culture and compensation data reporting platform. The top 50 best rankings reflect anonymous employee sentiment ratings based on compensation, team leadership, environment, outlook, career growth, work-life balance, perks and benefits, and more.
For over 20 years, Ambry has been an industry leader in genetic testing solutions that enable clinicians to confidently inform patient health care decisions. Our talented team has advanced genetic testing worldwide, made scientific breakthroughs, and contributed hundreds of studies and peer-reviewed publications.
Being recognized among the best companies for women and workplace culture by our own employees is an honor, one that reflects Ambry's people-centered approach. We pride ourselves on being a workplace where people can bring their authentic selves to work, contribute equally at every level, and advance their careers.
"It's invaluable feedback from our employees," said Aaron Elliott, CEO of Ambry Genetics. "Striving to enhance our company culture and attract and retain a diverse employee population has led us to be an employer of choice. As Ambry continues to grow with new products, technologies, and our recent acquisitions, we continually strive to keep a positive workplace top of mind. We understand that the culture we produce ultimately drives our success."
Best Company for Women
We're proud that women make up 57% of Ambry employees company-wide, and 45% are director-level and above. That greatly surpasses the national and global company average for women in leadership. Being considered among the best companies for women by Comparably is the result of Ambry receiving the highest ratings from female employees.
"Women make up half of our senior leadership alone, many of whom are working moms," said Catherine Suh, Vice President, People at Ambry. "Being recognized as one of the best companies for women is validation that Ambry supports women in their career development while maintaining work-life balance."
Best Company Culture
The best workplace culture award is based on a range of positive employee feedback on work environment, compensation and benefits, professional development, happiness, and work-life balance.
According to Comparably surveys, 97% of Ambry employees look forward to interacting with their team every day, and 93% believe they have a positive work environment.
See what some of our employees are saying:
"I feel that I can be myself here at Ambry. My manager and leadership team value me as a person and as a professional. They really value work-life balance."
"The collective energy, intelligence, positivity, and compassion of the group inspires me to gladly work harder to contribute to what genuinely feels like shared growth and achievement."
Interested in joining our team? Click here for our current career opportunities, and see what else our employees are saying on our Comparably page.
About Comparably
Comparably's mission is to make workplaces more transparent and rewarding, providing the most comprehensive and accurate representation of what it's like to work at companies based on employee insight and analysis. Employees can anonymously rate their employers in 20 different culture categories, providing the public an in-depth look at worker experience.