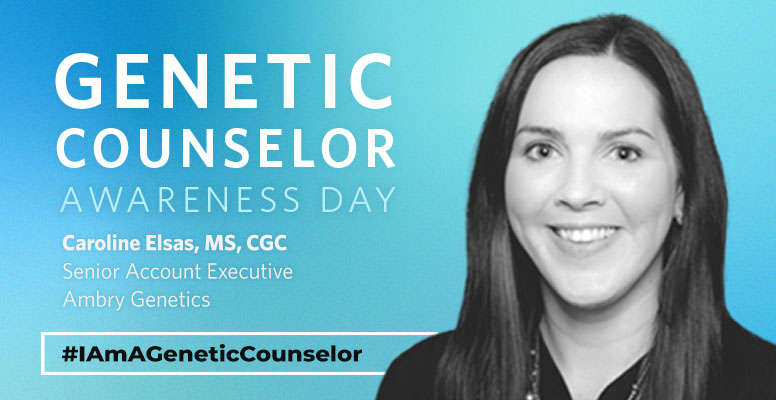 The world of hereditary cancer testing is complex, but genetic information is crucial for flagging at-risk patients and their relatives. They might just benefit from earlier and more frequent surveillance and/or preventive surgeries. For those individuals who face important and difficult health decisions, genetic counselors are invaluable members of their care team.
Helping patients understand their disease risk requires a deep level of empathy. I've carried that with me from my former role as a clinical cancer genetic counselor into my work with providers. I hear countless clinicians communicate challenges in providing genetic testing, which ultimately creates barriers for individuals to access important information about their health.
Responding to Challenges
Ambry's efforts to narrow gaps in test access is one reason I get out of bed each morning. Some might say my job is unconventional for a certified genetic counselor, but by being a Senior Account Executive, and previously a Genomic Science Liaison, I've been able to reach many patients by empowering providers. I'm always looking for strategic solutions to streamline the testing process in the community.
Our work is incredibly rewarding because we're solving problems with innovative solutions. I've partnered with clinics to implement the CARE (Comprehensive Assessment Risk and Education) Program™, a customizable platform that manages the entire patient identification, testing, and follow-up process—including access to genetic counselors who can help interpret results.
We're asking questions like, how can we make genetic screening and testing easier for healthcare systems to implement? Can we find a way to increase testing accuracy? And every solution is thoughtfully designed by genetic counselors, scientists, and other experts.
We recently expanded our paired RNA and DNA testing to analyze up to 91 genes for that very reason. For providers, that means fewer inconclusive results, more positives that may have otherwise been missed, and better informed and accurate medical management recommendations.
Sharing a Common Goal
Whether I'm assisting a provider who has vast clinical genetics experience or boosting awareness in an office just becoming familiar, I learn and evolve from each interaction. That's what makes being a genetic counselor critical to shaping a company like Ambry. I work with colleagues to implement positive change to our processes by developing an intimate understanding of practices across the health landscape, making me a better resource both internally and externally.
The field of genetics is overflowing with new information. Problems facing healthcare providers and their patients can be solved. When you embrace solutions that contain practical tools, you uncover the potential to expand access to critical genetic insights for patients. And I'm determined to find a way, especially for underserved populations.
I am a genetic counselor, and I have the privilege of working for a truly innovative company. We're a collaborative team of talented and open-minded individuals who share one common goal. We will not stop until human disease is understood.