Elia Namey discusses Disparities in the Uptake of Cascade Testing.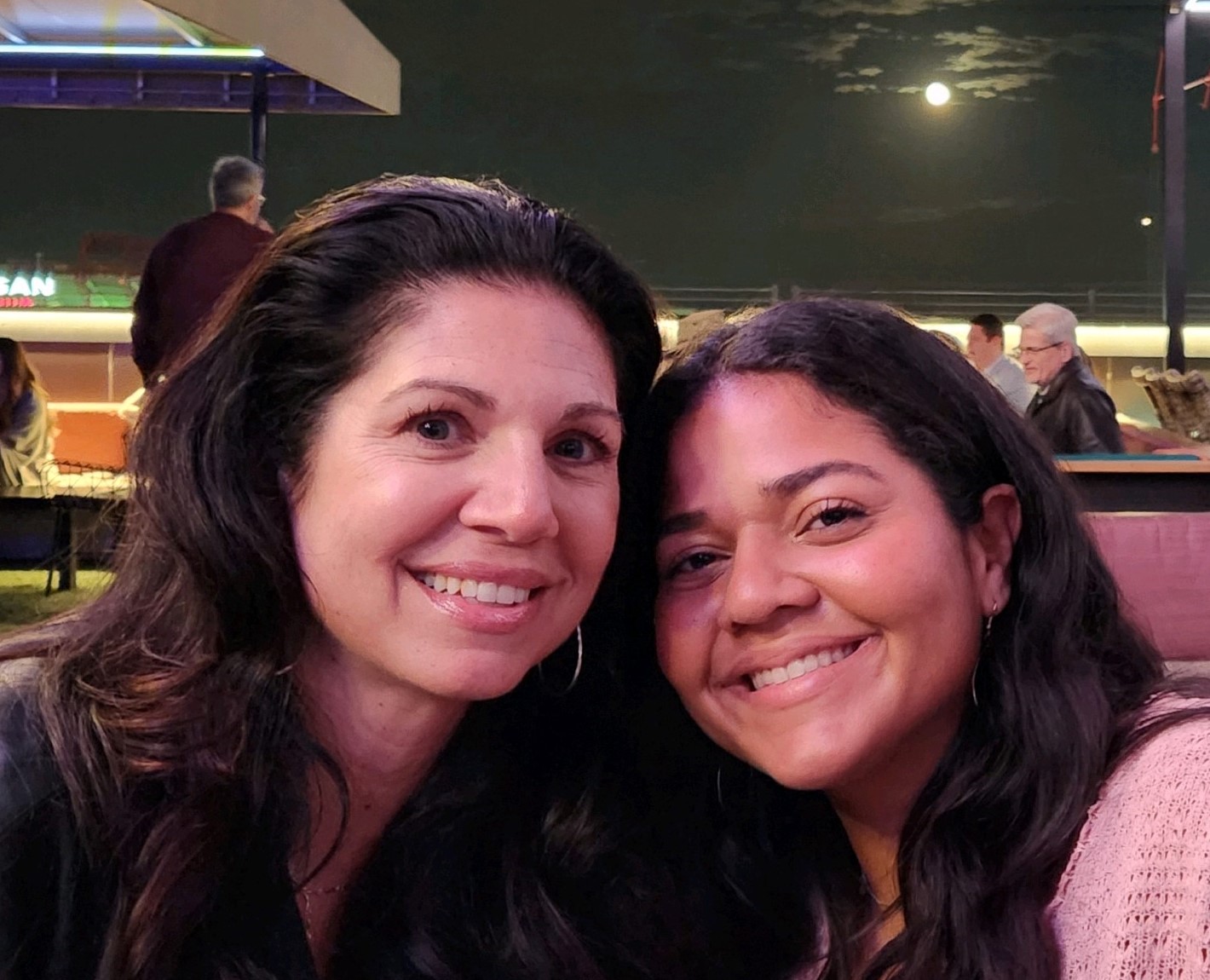 February 11 is recognized as International Day of Women and Girls in Science! Ambry feels privileged to have many women in high positions leading the company's scientific progress. To celebrate, we're introducing one of the women who leads the way in genetics at Ambry Genetics and her daughter, who is following in her mother's genetics footsteps and hoping to inspire future generations. 
Tara Namey, a board-certified licensed genetic counselor, is Ambry's Director of the Genomic Science Liaison (GSL) Team. The GSLs' mission is to provide accurate and actionable clinical information to providers and patients via best-in-class client support and genetic testing. The GSL team works alongside Ambry's commercial sales team and collaborates with Ambry's internal teams to best serve clients and patients through the genetic testing journey.
Tara always had a strong interest in science, majoring in biology at the University of Scranton. She fell in love with genetics and genetic counseling when she worked with an oncological genetic counselor at the University of Pennsylvania. After receiving her master's degree in Genetic Counseling from California State University, Tara helped to develop the Greg and Lorraine Harper Cancer Risk and Genetic Assessment Program at Lehigh Valley Health Network. Tara also provided clinical genetics support for patients at the hospital's Hypertrophic Cardiomyopathy Center of Excellence. After 16 years, Tara came to Ambry, where her knowledge of clinical genetics and genetic testing are used to support clients on a larger scale.
Helping providers better understand the value of genetic testing for the patients that they serve is something that Tara is passionate about. She knows the positive impact this knowledge has on families. Tara also sees the increase in women in STEM positions and is proud to be part of the team at Ambry where she can contribute to the evolution of genetics and medicine. 
While Tara worked to help patients, she passed that sense of mission on to her daughter, Elia, who grew up with a passion for math and science, especially biology. From a young age Elia admired her mother's work with patients as a genetic counselor and saw herself taking on a similar role in the future. Reflecting on her mother's experience showed her that physicians were in a position to advocate not only for their patients, but also for the plethora of other team members that are crucial for the care of patients. As a result, she has set her path on becoming a physician. She wants to be the health care provider who supports patients on their health care journey and genetic counselors like her mother as they champion patients' access to more informed care. 
Elia is a senior at the University of Pittsburgh majoring in biology on a pre-med track to become a doctor. As part of her studies, she took on an independent study project last year, working with Dr. Randall Brand, a board-certified gastroenterologist who is the director of the hereditary GI tumor clinic and Professor of Medicine at the University of Pittsburgh School of Medicine, on a research project that examined disparities in health care, specifically in cascade testing. 
Cascade testing is the term used for genetic testing for close family members after a patient tests positive for a genetic mutation. This testing can empower other family members to know their risks and take charge of their health. Elia hypothesized that factors such as race/ethnicity and socioeconomic status (SES) affect the uptake of cascade testing. Comparisons were made between race/ethnic groups and socioeconomic status groups pre- and post-gratis testing, and racial/ethnic groups were analyzed within each SES group. Dr. Brand recommended Ambry Genetics as a partner for the study, as they both had a connection.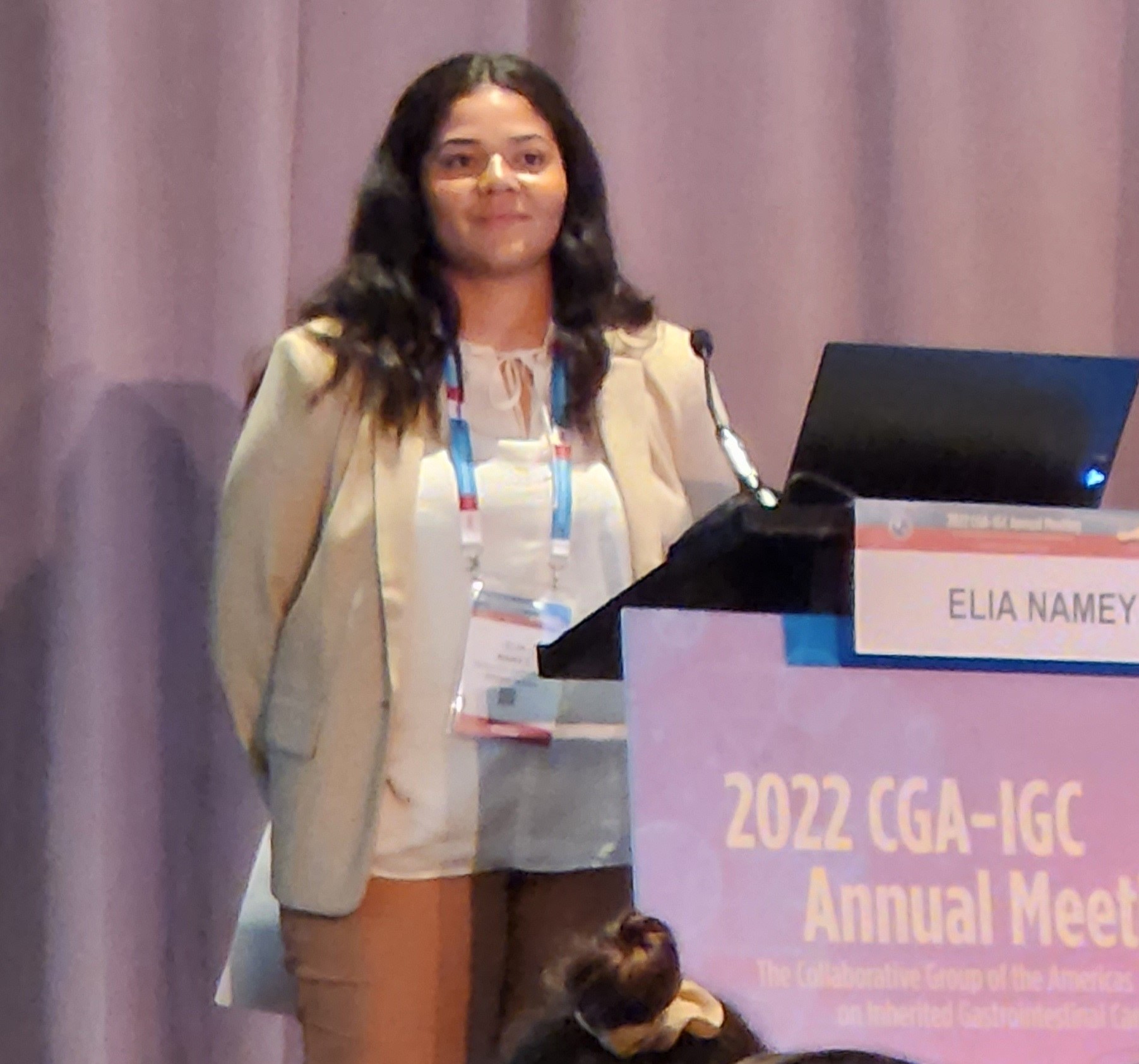 Elia's study exemplifies two of Ambry's areas of interest: support for women in STEM and the need for standardization in health care practices to lessen disparities. They identified data points to assess and determined that the barriers to cascade testing may be more cultural than financial: The study concluded that there is a significantly reduced uptake of cascade testing across all racial/ethnic minority groups compared to the non-Hispanic white group. With the support of Ambry and the support of Beth Dudley and Eve Karloski, genetic counselors working with Dr. Brand, Elia presented the collaborative research project, "Disparities in the uptake of cascade genetic testing among family members of mutation-positive Lynch and HBOC syndrome patients" at the CGA-IGC annual meeting in Nashville, TN, in November 2022.
One takeaway from the CGA-IGC presentation is that future studies are needed to identify the barriers to cascade testing, especially for patients in racial/ethnic minority groups. Once these barriers are identified, targeted strategies can be investigated to increase the use of testing in these and other populations.
The study solidified Elia's thoughts on the need for health care representation, whether ethnicity or gender. While searching for a pediatric oncologist to shadow, Elia started to ask herself some hard questions when her search returned no female African American possibilities. She was looking for a doctor with a degree of familiarity and relatability to help mentor her journey. She wondered, "If this is my experience, what is it like for a black cancer patient? Where are the doctors who can understand the black experience as it relates to health care?" In her personal statement, she eloquently distilled her resolve into a powerful mission statement for her career:
Although I had never wavered in my desire to pursue a degree in medicine, my motivation and purpose became rock solid inside me. I would someday be the face on the webpage. I would do the work to be a black female physician in a competitive field like oncology.
Although I had never wavered in my desire to pursue a degree in medicine, my motivation and purpose became rock solid inside me. I would someday be the face on the webpage. I would do the work to be a black female physician in a competitive field like oncology.
Elia knows she can serve as an advocate for her community to dispel myths and fears surrounding genetic testing. Identifying disparities in genetic testing with the goal of identifying and breaking down existing barriers to equitable health care across all populations is at the forefront of Elia's research with Dr. Brand. 
With women like Tara and Elia Namey leading the charge in STEM fields, the future of genetics looks bright!
A Bonus Conversation with Elia Namey