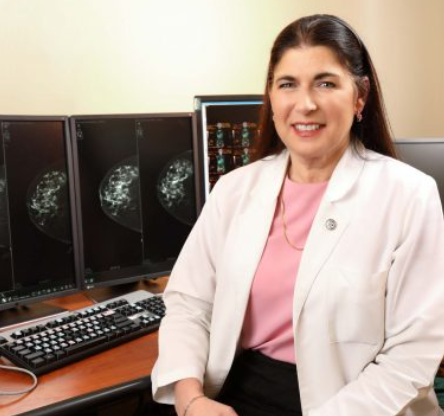 Being a "woman of substance" requires a passion for benefitting the greater good. Dr. Cathrine Keller has it in abundance. "We believe the greater good is to put our patients' health and safety at the epicenter of every decision we make."
 
A woman of substance seldom has a neutral position. As a leader in the fight against breast cancer, she's clear. "Mammograms from age 40 save lives, period, end of story." And, as a "physician of substance" in diagnostic imaging, she has a long history of "firsts," championing "what's next" in diverse areas including interventional radiology, risk assessment and genetic testing for hereditary cancer risk, the use of CESM for imaging dense breasts and leveraging artificial intelligence. She is the perfect inspiration for International Women's Day. As the immediate past President and Managing Physician of Lake Medical Imaging, she is the epitome of a strong leader, champion for health and innovator of best practices. 
Dr. Keller received her medical degree from the University of Chicago, Pritzker School of Medicine, followed by a residency in Diagnostic Radiology at Henry Ford Hospital in Detroit and a fellowship in Neuroradiology at the University of Miami, Jackson Medical Center. In July 1988, she joined Lake Medical Imaging, which has grown from one Central Florida location with five radiologists to six locations and 23 radiologists, serving two University of Florida Health hospitals. Lake Medical Imaging was the first freestanding Diagnostic Center of Excellence in the U.S. and the first Breast Imaging Center of Excellence in Florida. 
Dr. Keller served as president of the practice from 2005 until January 6, 2023. 
What drew you to radiology?
Ambry Genetics had the privilege of partnering with Dr. Keller and Lake Medical Imaging in 2020 and featured their case study of successful implementation of The CARE Program™ in a white paper. The partnership resulted in one of two National RAD Honors Awards given to Lake Medical Imaging in 2022 by the Radiology Business Management Association (RBMA), this one for Innovation. According to RBMA, RAD Honors was developed "To recognize radiology practices and vendors who have demonstrated the highest degrees of creativity, innovation, and exemplary leadership." This honor recognized how broadening access to genetic cancer risk assessments and testing has benefited Lake Medical Imaging's patients. 
Serving a Unique Population
The Villages, Florida, is not only the fastest growing retirement community in the nation, it has been one of the fastest growing cities in the nation for the past decade. Between 75 and 80 percent of the patients the practice serves are Medicare age—65 and older—which presents both opportunities and challenges. This patient population expects a high level of customer service and personalization. They also tend to be both complex and knowledgeable regarding their health care needs. Most women in The Villages community itself have come here to retire, and fortunately, many have previous mammograms available for comparison. 
Dr. Keller's guiding principle is to always put the patient first. "If you do that," explains Dr. Keller, "you will always make the right decisions." With older patients, being caring and taking the extra time that's needed is essential, especially if a patient has a disability, hearing trouble, difficulty moving, cognitive concerns or is in pain. 
Dr. Keller takes patient satisfaction and confidence very seriously. Lake Medical Imaging provides same-day mammography results in most cases and is able to order additional views immediately when needed. Follow-up diagnostics are scheduled quickly – within 5-7 days. 
What has the biggest advancement in your field been?
Dr. Keller places an emphasis on personalized screening for every patient. One example of this was the addition of prescreening for genetic risk factors implemented through the CARE ProgramTM.  This patient-centric program seamlessly incorporated digital tools into Lake Medical Imaging's workflow so that genetic testing can be offered to individuals who meet medical criteria for testing, often at no out-of-pocket cost to patients. CARE also applies the tyrer-Cuzick model to identify individuals with an increased lifetime risk of breast cancer who may benefit from additional breast cancer screening using the Tyrer-Cuzick model. 
What did The CARE Program bring to your practice and why did you choose to move forward with its adoption?
Dr. Keller's philosophy is simple: she is always looking for the next step in improvement, and every decision is weighed based on whether it will add clinical benefit. 
When it comes to advice for running a successful medical office, she says, "It's a team effort. We work very closely with our technologists and all the other personnel to try to create an environment that promotes the best outcomes. We are tailoring protocols to make things run better all the time. A good leader encourages new ideas and problem-solving, is sensitive to people's needs and makes sure to thank employees for the good things they do. It takes everyone to get things done."
Individualized women's imaging is only one aspect of the depth and breadth of the expertise in diagnostic and interventional imaging that has made Lake Medical Imaging a national leader in the field. Dr. Keller and her team have expanded their relationship with Ambry to include hereditary cancer risk assessment and testing of a number of genes linked with hereditary cancers, including but not limited to breast, prostate, ovarian, colorectal, uterine, stomach, pancreatic and melanoma.
We are proud to spotlight Cathrine Keller, MD as an inspirational physician, leader and woman of substance.