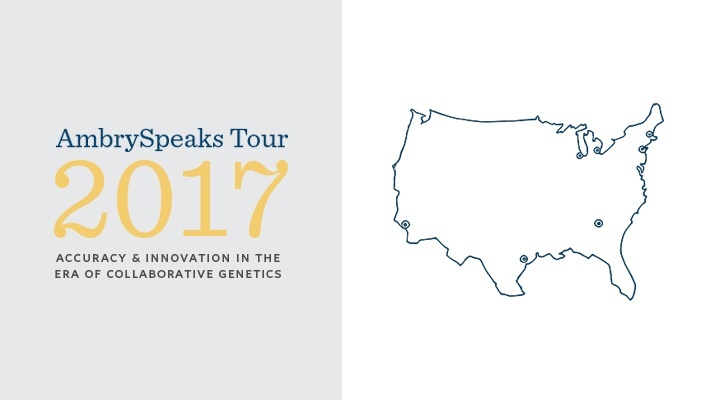 Ever since our initial publication of Sanger sequencing confirmation was featured in The Journal of Molecular Diagnostics, in addition to our accompanying presentation at the National Society of Genetic Counselors conference last fall, Ambry has been touting our superior scientifically-proven genetic testing.
Now we are bringing the message that genetic testing accuracy matters to genetic counselors and other healthcare providers around the country.
The "Ambry Speaks Tour – Accuracy and Innovation in the Era of Collaborative Genetics,"  will feature presentations given by our own Director of Emerging Genetic Medicine, Brigette Tippin Davis, Ph.D. Dr. Davis will discuss how variations in accuracy occur in different labs and how Ambry's approach serves as the model for quality in the genetic testing industry.
The tour will kick off January 31st Los Angeles, California and conclude on March 9th in Chicago, Illinois, with stops in New York, Boston, Atlanta, Houston and Detroit along the way.  We will feature our latest research and technological innovations at each stop.
The primary focus of the series will be how Ambry integrates Sanger confirmation  within the testing process alongside Next generation sequencing (NGS) and why that is necessary for obtaining optimal results.  
Dr. Davis hopes to help clinicians understand their collaborative potential through Ambry's data sharing program, AmbryShare, so they can ultimately make a significant impact on the genetics industry and the future of patient treatment plans through research.
For more details about the study as well as its results in greater detail, click here.
For more information about tour dates and locations and to register, click here.