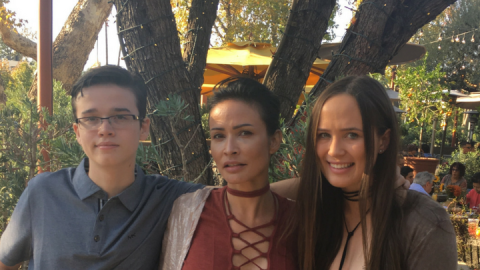 Editor's Note: As National Autism Awareness Month continues, we conclude our 2-part interview we began with Kieran Best, a young man with an autism spectrum disorder. His mother, Christina DeRochemont, shares candidly about what life was like early on with Kieran, how they received his diagnosis, and offers tips for other parents in a similar situation.
Ambry: When and how was Kieran diagnosed?
Christina: Los Angeles Unified School District diagnosed him at the early age of four [years]. I started noticing his change of behavior at an early age. He would run out of class and get frustrated. Having a Master's in Psychotherapy, I think it naturally helped me to be more aware of his learning and behavior adaptations. I read a book called The Out of Sync Child by Carol Stock to understand the development of my child. I highly recommend this book to any parent that may have a child on the autism spectrum. I had a psychologist observe Kieran at school, and his first diagnosis was a pervasive development disorder (PDD). Kieran was then retested and told that he has autism with a superior IQ.
A: Did you have any genetic testing done?
C: We didn't do genetic testing. Our family was going to participate in a genetic testing study at UCLA. We were happy to get our blood drawn and follow through the process, but Kieran did not want to participate and cooperate at the time.
A: What general advice do you have for others in your situation?
C: Recognizing that everyone is different, I definitely recommend speaking to your doctors and trying a gluten-free and casein-free diet. We started working with a nutritionist who helped us make a transition to healthier habits. We cut most, if not all, dairy out of Kieran's diet and are an advocate for B12 shots. We also recommend physical therapy and occupational therapy. This helped Kieran learn how to move his body, strengthen coordination, and build muscle strength.
A: Do you have any trusted resources you'd recommend for people just learning about this or wanting to support others?
C: Autism Speaks is an amazing organization, a reliable resource, and the place we go to for any kinds of questions! And remember, no question is stupid. I urge parents to become their own doctors and advocates and to research resources local to them. Get involved!
Watch Kieran in this segment of NBC's "Class of 2020" series on the Today Show. This thirteen-year project follows a class from kindergarten to high school graduation. Kieran and his parents are the stars of this special segment focusing on autism!
To learn more about the genetics of autism spectrum disorders and other neurodevelopmental disorders, please visit Ambry's neurology website for patients and families here.