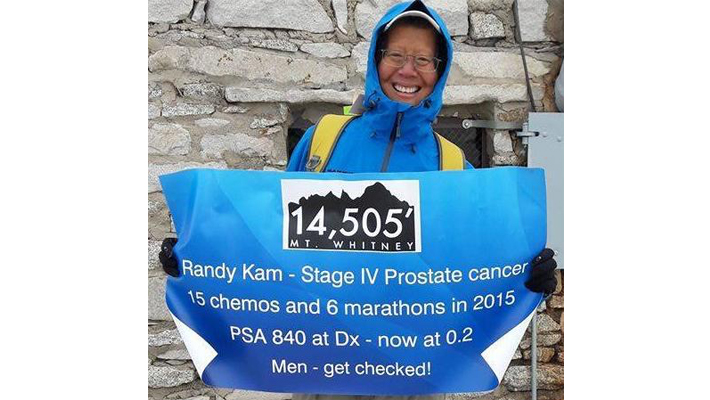 CANCER - I had a deep, visceral fear as my father, aunts, brother-in-law, mother-in-law, and father-in-law were stricken byt he disease over the years. In an effort to avoid being struck as well, I tried to stay healthy: running often, eating a low carb diet full of veggies and lean protein.
In 2010, I took my first PSA (prostate specific antigen) test, which measured the level of antigens in my blood stream to screen for prostate cancer. The results came back a four, which was considered to be a normal level.  I thought that at age 53, PCa (prostate cancer) which typically strikes when a patient is in in their mid-60s, was not likely. I mistakenly assumed that my running and diet could protect me from this cancer.
I neglected to get another test until the day after I ran the Long Beach Marathon in October of 2014. The test results came back a 550! I waited 10 days to retest, hoping that the marathon caused the huge increase in my PSA level. The results 10 days later?  633! As a result, my urologist, Dr. Liu, started me on Cipro (an antibiotic) and Flomax (to aid in urine flow).
In 2015, I had an eighteen-core blind biopsy that revealed cancer in all the samples. I had a Gleason 7(4+3) – an intermediate risk with a PSA at 840. Gleason scores measure the likelihood that prostate cancer will spread, and based on my score, that likelihood was high. 
The next step was a CT scan, which showed metastases (spreading) to a lymph node chain around my ureter, which drains urine. Left unchecked, I was headed for kidney failure. Stents (a tubular support placed temporarily inside a blood vessel, canal, or duct to aid healing or relieve an obstruction) were placed in me and I started ADT (androgen deprivation therapy) to reduce the testosterone that fuels the PCa.
Dr. Nilesh Vora, my oncologist, stated that I was diagnosed at the right time, as recent research showed that combining ADT and chemo gave the participants 17 more months to live. At that visit, I said "If someone has to be cursed with cancer, who better than someone as fit as I am." We decided to continue with chemotherapy.
Knowing that chemo impacts everyone differently and that each individual experiences different side effects, I suggest patients to do their own research and consult with their doctor to understand what works best for their own body. For me, I discovered an article by Dr. Longo at USC on the influence of fasting. I fasted two days prior to chemotherapy and personally experienced minimal side effects from my sessions. To emphasize - what works for me, may not work for others. I did choose to continue this practice daily, fasting from 9pm to 1pm the next day and drinking curry/black pepper, tomato, ginger, and veggie broth between.
I continued running and I completed the OC (Orange County) marathon "dead" last – only three days after one of my chemo sessions. You can read an article they wrote about me here. I went on to finish five more marathons in 2015.
I credit running for helping me offset fatigue and staving off neuropathy (damage/ disruption of the peripheral nerves which can cause pain) until after I completed my 15th session of chemo on December 17, 2015. I have completed 17 marathons post cancer diagnosis. While running these marathons, I sport a sign on my back encouraging men to get checked for prostate cancer – check out this article to see photos.
Besides running, I continued my search for other aids. My oncologist and I agreed that I should start taking Metformin (a diabetes drug) and Lipitor (cholesterol medication) based on research showing that these are helpful in fighting PCa, and I started taking the combination in January 2016.
My PSA hit 0.2 in August 2016, then 0.3 8 months ago, 0.4 2 months after and 0.5 2 months afer that. I panicked even though a recurrence wouldn't be official until I hit a PSA of 2.2. I started to follow a full vegan diet in July to see the effect that would have on the PSA. It dropped to 0.4 that month.
I have learned a lot through my journey with prostate cancer, and encourage others to get tested early and stay healthy. Starting early with a healthy diet (whole grains, a lot of fruits and veggies, fish twice a week, lean protein), physical activity (especially aerobic with some weight lifting), stress relief and sufficient sleep will pay off in the future.
Further, if diagnosed, get a second opinion and get informed. Become your own best advocate and partner with your doctor to keep you in the game. No one lives forever, but we have to continue the fight for ourselves, family and friends. Hope is not a strategy. Fight On!