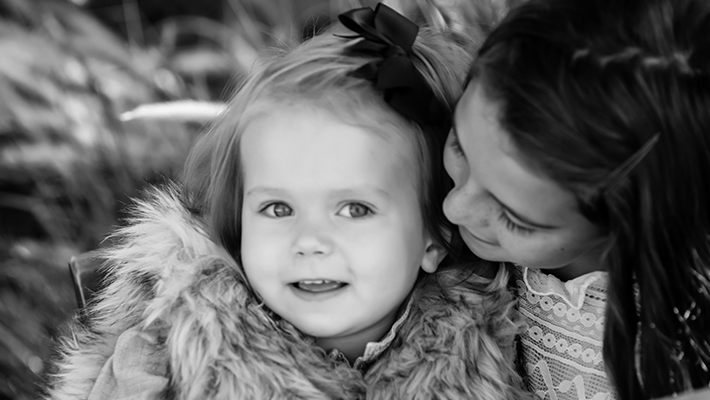 Our daughter Daphne started missing developmental milestones at around 6 months of age. She was unable to sit on her own and unwilling to eat baby food. 
We started down the path of diagnosis, which was long and exhausting and went like this: 
First, we went to our pediatrician to document our initial concerns and obtain referrals for a physical therapy evaluation.  The physical therapist thought that silent reflux was the reason Daphne despised tummy time, so it was on to the Gastroenterologist (GI). 
The GI said that it was not in fact reflux, and referred us to a Neurologist who requested a variety of tests.
This led us to the Metabolics Group and our first encounter with our Genetic Counselor, Karen. 
The entire process took only a month, but it seemed like a lifetime, and left our heads spinning.  We are fortunate to live in an area with a high concentration of specialists, and each knew the next in line to pass us along to; but until we met Karen, there wasn't any one single person overseeing and coordinating Daphne's care. 
We didn't immediately recognize the benefits of having a Genetic Counselor, we just knew we were terrified for the fate of our daughter.  The first appointments were very long, more than 4 hours, and so much information was being thrown at us that it was hard to grasp it all.  We were asked to bring a full family history of all known health issues of family members to our first appointment so Karen could map our family tree.  This was the first service she provided, but by no means the last. 
Karen attended all of our specialist appointments in their entirety, taking notes and following up with us afterwards to more fully answer our questions or to explain in more detail something the doctors had said.  She ordered all of the tests, arranged all of the appointments, provided us with papers from scholarly journals, and so much more.  She taught us the tricks of the trade with blood work - a frequent test that Daphne requires to measure the level of  lactic acid in her blood. Karen also took blood draws that needed to be mailed out and processed them herself, so that we would not get double-charged. She made sure all labs were drawn correctly. She held our hands during times we needed it the most. 
As we were narrowing in on Daphne's diagnosis, she had a discrete regression, which prompted our Neurologist to order an emergency MRI.  It was difficult to schedule, but once again, Karen was there to facilitate.  The abnormal MRI confirmed a mitochondrial disorder, but we didn't learn which specific disorder until we received the results of the genetic testing (coincidently, those results were pending at the time of the MRI). 
Karen called us with those results on a Friday afternoon and explained them over the phone with an impossible balance of delicate kindness and frankness and honesty.  She spared us the ordeal of waiting until our Monday appointment to find out the results.  It gave us time to prepare, to collect our thoughts and questions.
Throughout Daphne's journey to diagnosis, we talked more with our genetic counselor than the doctors!  Karen was an integral part of Daphne's diagnosis and initial care.  She set the bar very high, so it was a sad day this past December when she left the hospital to work in the genetics industry.  We have learned that medical practicioners of her quality are far and few between, and they serve as an integral role in supporting the families both emotionally and from a medical perspective.
DISCLAIMER: THIS BLOG DOES NOT PROVIDE MEDICAL ADVICE
The information, including but not limited to, text, graphics, images and other material contained on this blog are for informational purposes only. The purpose of this blog is to promote broad understanding and knowledge of various health topics. It is not intended to be a substitute for professional medical advice, diagnosis or treatment. Always seek the advice of your physician or other qualified health care provider with any questions you may have regarding a medical condition or treatment and before undertaking a new health care regimen, and never disregard professional medical advice or delay in seekingit because of something you have read on this blog.
Ambry Genetics Corporation does not recommend or endorse any specific tests, physicians, products, procedures, opinions or other information that may be mentioned on this blog. Reliance on any information appearing on this blog is solely at your own risk.