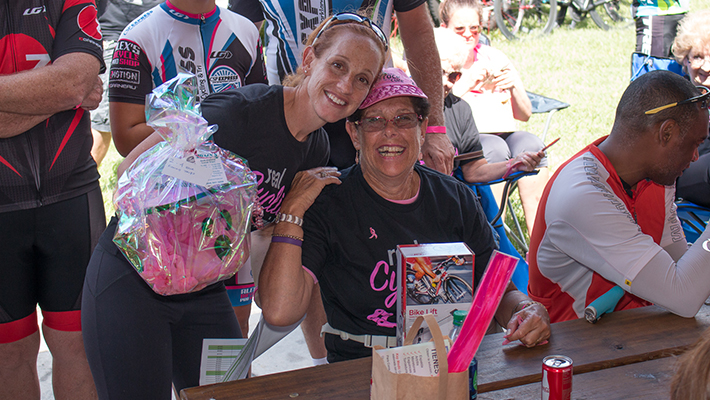 *Editor's Note:  In honor of Family History Day, which is on Thanksgiving, Eve Mart is sharing the story how hereditary cancer has shaped her relationship with her mother, and how genetic testing may have been able to help change the course of her mother's health. 
I often tell women "be your own best advocate", and I truly mean it. Perhaps subconsciously, I regret not pushing the conversation I had with my parents back in 2007 a little further when I asked my mom to be tested for the BRCA gene mutation, as we are of Ashkenazi descent and my mom was first diagnosed with breast cancer at the age of 40. This was years before Angelina Jolie made headlines in 2013 with a preventive double mastectomy (removal of both breasts to prevent breast cancer). The reason she gave: "A family history of cancer (her mother had died of ovarian cancer) and what she called a "faulty gene," referring to the BRCA gene (BRCA1)." 
In 2007, I was 34 years old and while an educated, independent woman armed with medical studies and other information shared with me by my gynecologist, I felt awkward having this type of conversation with my parents. I recall my dad saying to me, "What if you find out mom is a carrier?  Then what?  Are you going to have your breasts removed?" Me: "Maybe? I don't know."
So much has changed since 2007. There is much more information readily available and open dialogue surrounding hereditary breast cancer. My parents weren't very well versed on the topic at the time, and perhaps I didn't do a very good job explaining how important genetic testing was for my health, and for the future of my mother's health. As they say, hindsight is 20/20. Perhaps if we needed to have that conversation today, things may have gone a little differently. 
I was diagnosed with early stage invasive ductal carcinoma shortly after that initial conversation with my parents took place and I was pretty upset, angry, and maybe even a little resentful. On an intellectual level, I know it isn't my mom's fault, but I'm a proactive person by nature, and had no choice but to deal with a very serious situation in a reactive manner. This caused me to immediately go into decision-making mode.
I did my research and listened intently to information my physicians shared with me. However, when my mom expressed her initial opinion that a lumpectomy was 'good enough for me…why so aggressive wanting a double mastectomy?' I made it clear that I would make the decisions that were best for me.  I did not 'want' a double mastectomy, but I 'wanted' to live and give myself a fighting chance at a long CANCER FREE life ahead of me.
I feel a  bit ashamed to share that I essentially told my mom that she didn't get an opinion on the matter.  However, within a day, my mom came back to me and said that she thinks what I decided to do was the right thing to do. If my mom had the same information available to her in 1986 when she was first diagnosed with early stage breast cancer, perhaps she wouldn't be living today with stage 4 metastatic breast cancer to the lung. And I repeat, hindsight is 20/20.
My mom is unequivocally my biggest fan. She loves me to infinity and beyond, and I do not doubt her love for me. She probably couldn't tell you what I do for a living or half the things I've done as a breast cancer advocate. But she will tell me that she's incredibly proud of me, so much so that I think it's hard for her to find the words. My mom didn't come with me to my chemo sessions, though my dad never missed one. I think it was just too painful for her to see me like that.
I'm aware of the baggage I carry because of the relationship I have with my mom. I'm afraid that one day when she's no longer a phone call away I'll regret some things, but I'm not sure how to fix them, so I accept the situation.  After living with MS for 40+ years, coupled with going through treatment for metastatic breast cancer for the past four years, my mom today isn't who she was, but it is what it is. I love her and there is no preparation for the void she will leave in my life one day. I choose to remain thankful for having her in my life for as long as I have…so for that I'm grateful.