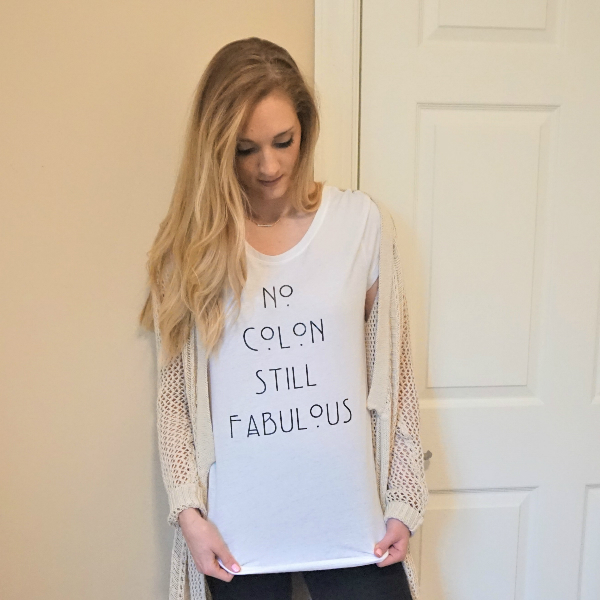 I never thought I'd hear the "C" word. Newly married and about to start my graduate degree, everything seemed bright.  That is until a routine colonoscopy discovered severe high-grade dysplasia. My doctor explained that he was confident it would eventually manifest into cancer and urged something be done.  With the click of the phone, I collapsed in tears.
Within the next couple of weeks, I met with a surgeon to learn my options.  I went in with the idea that the pre-cancerous tissue would be removed from my colon and I would be good to go.  Oh, how naïve I was.
My surgeon gave me two options: 1. Remove a portion of my colon, but also have frequent colonoscopies to watch the disease progression, which could easily lead to more surgery, or 2. Remove my entire colon and rectum and be able to live with peace of mind. The catch? I would have to live with a permanent ileostomy.
In my mind, living with an ileostomy wasn't even a choice.
As days passed, I reflected on what the surgeon said.  He recommended that I get the ileostomy, but also suggested that you can't predict when cancer will strike; It could happen in six months or 10 years, or possibly when I'm a young mother.  It felt like a glimpse into my future, and it scared me to death.
I started doing research and stumbled upon different blogs. They all had one thing in common; they gushed about how positively life changed with an ostomy.  I was beginning to reconsider my decision.
After struggling with Crohn's Disease for the past 10 years, which had led to the dysplasia in my colon, I already sacrificed so much in my life.  I lived in constant pain and life revolved around the nearest bathroom.  I was foregoing a life that I never knew I was missing because I forgot what it meant to feel good.  I wasn't living, I was existing.  After 10 years, I had enough. 
I finally realized I wanted the permanent ileostomy because I had absolutely nothing else to lose.
It was at that moment, I decided to have a positive outlook.  It was a promise I made to myself, and despite feeling completely terrified, I was optimistic about my "new" life.
Never in a million years did I think I would have an ileostomy, but now I can't imagine my life without it.  Cancer and my ostomy haven't changed who I am, but they've given me a new outlook on life.  They've reinforced that life is precious and allowed me to reevaluate what is important.  They've given me new confidence and encouraged me to grow.  They've motivated me to spread awareness, given me strength, and inspired me to love the woman that I am.
Deciding to have a permanent ileostomy was the hardest, but also the best decision of my life.  My ostomy gives me the freedom to be present in the moment, and the power to live without worry or fear of cancer. 
At the age of 24, I chose to live with a permanent ileostomy because I wanted to live my life fully rather than watch life pass me by.  I took a risk and was uncertain of what life would be like when I woke up from surgery but promised myself that this would be my new beginning.
I didn't just choose to live with an ileostomy.  I chose to be free of the pain and fear of the unknown.  I decided to take control.  I fought for the life I deserved.  Now I can live the life I've always wanted.