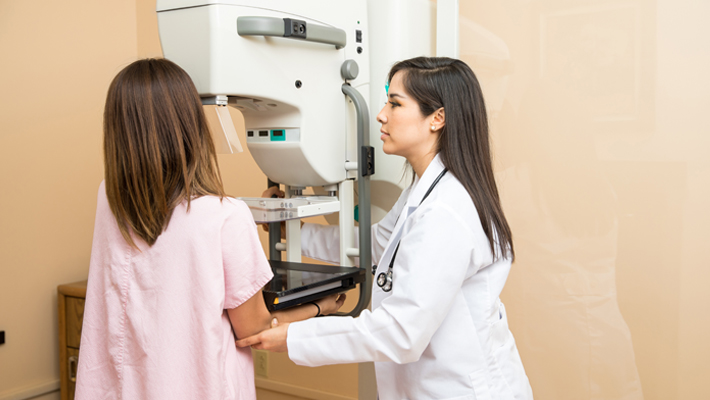 What better time than now to take charge of your health? This time of year can be very busy for many people, but it's also a great opportunity to start the year out right by seeing your doctor and scheduling an annual mammogram.
The United States Preventive Services Task Force recommends that women at average risk for breast cancer who are 50-74 years old get a mammogram every two years. Women who are 40-49 years old should talk to their doctor or other healthcare provider about when to start, and how often to get, a mammogram. Although there are no formal recommendations for men at average risk for breast cancer to have mammograms, those with a family history of breast cancer should discuss that with their healthcare providers. Scheduling appointments at the beginning of the new year makes it easier to remember them in the future.
There are many barriers to someone getting a mammogram:
Many fear breast cancer, and pain is said to be the No. 1 reason why someone chooses not to get a mammogram – or not to be rescreened, if they have had a mammogram
They feel they have no breast problems, so mammography is not necessary
They feel they do not have enough time to get a mammogram
They fear being diagnosed with breast cancer
Some are concerned about screening cost
Some have no insurance coverage for the procedure
Mammograms get a bad rap because of the anxiety and fear of pain associated with the procedure. It's easy to understand why those emotions could arise, but a mammogram is a valuable tool. It's long been used to detect breast cancer and early detection is the best bet for survival.
The good news is, in the U.S., Medicare provides coverage of an annual screening mammogram for all female beneficiaries age 40 and older. Medicare also provides coverage of clinical breast exams (click here to get details). The first step is to make an appointment with your healthcare provider to discuss your breast health.
If you are uninsured or have a limited income, there are low-cost or free mammograms that may be available in your community. The Centers for Disease Control and Prevention (CDC) have a program to provide low-income, uninsured, and underserved women with access to screening and diagnostic services. This program is funded for all 50 states, as well as the District of Columbia, the 5 U.S territories, and 12 American Indian/Alaska Native tribal organizations. You can get these clinical breast exams and mammogram screenings through your state's Medicaid benefits (click here to get details).
Several U.S. cancer support organizations offer financial assistance for mammograms, or even access to free mammograms:
Round up a group of your biggest supporters and go get that mammogram – and afterwards, reward yourself for taking that first step!