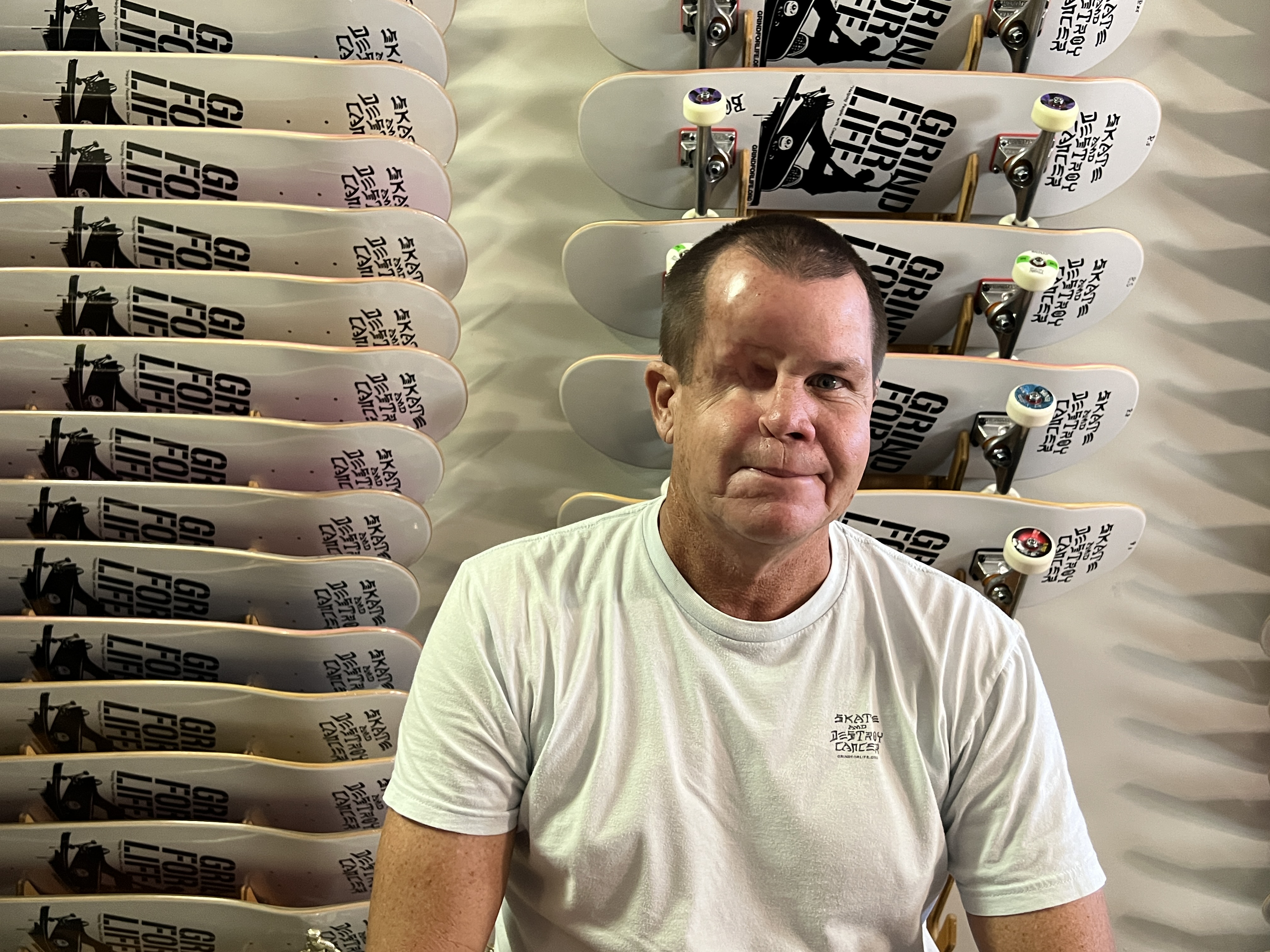 Back in the 1970s, skateboarding was all the rage. The Zephyr skate team from Southern California wowed young men all over the country with their different tricks, jumps, and grinds. One of these impressionable youths was Mike Rogers. He started his skating career in Florida in 1977. Little did he know he'd face much larger challenges than working on his skateboard tricks that same year.  
Mike started having migraines and pain around his right eye. First, he went to an eye doctor, who referred him to a specialist. They discovered a tumor located behind his right eye and nasal cavity that his oncologist determined to be a rhabdomyosarcoma. 
 
Rhabdomyosarcoma (RMS) is a rare type of cancer that forms in soft tissue — specifically skeletal muscle tissue or sometimes hollow organs such as the bladder or uterus. Although, this type of cancer can occur at any age, it most often affects children.
Because of the nature of the tumor, his doctor referred Mike to the Miami Children's Clinic for aggressive treatment. He was just getting into skateboarding and had to take a break to undergo 18 rounds of chemotherapy and radiation. The treatment was a success, and Mike went into remission. His doctors and oncologists said he should be clear if his cancer didn't return in seven years.  
Cancer treatment couldn't stop Mike from skating. He was ecstatic to return to the skateboard community because of the brotherhood, love, and friendships he found in the sport.  
Fast forward 25 years.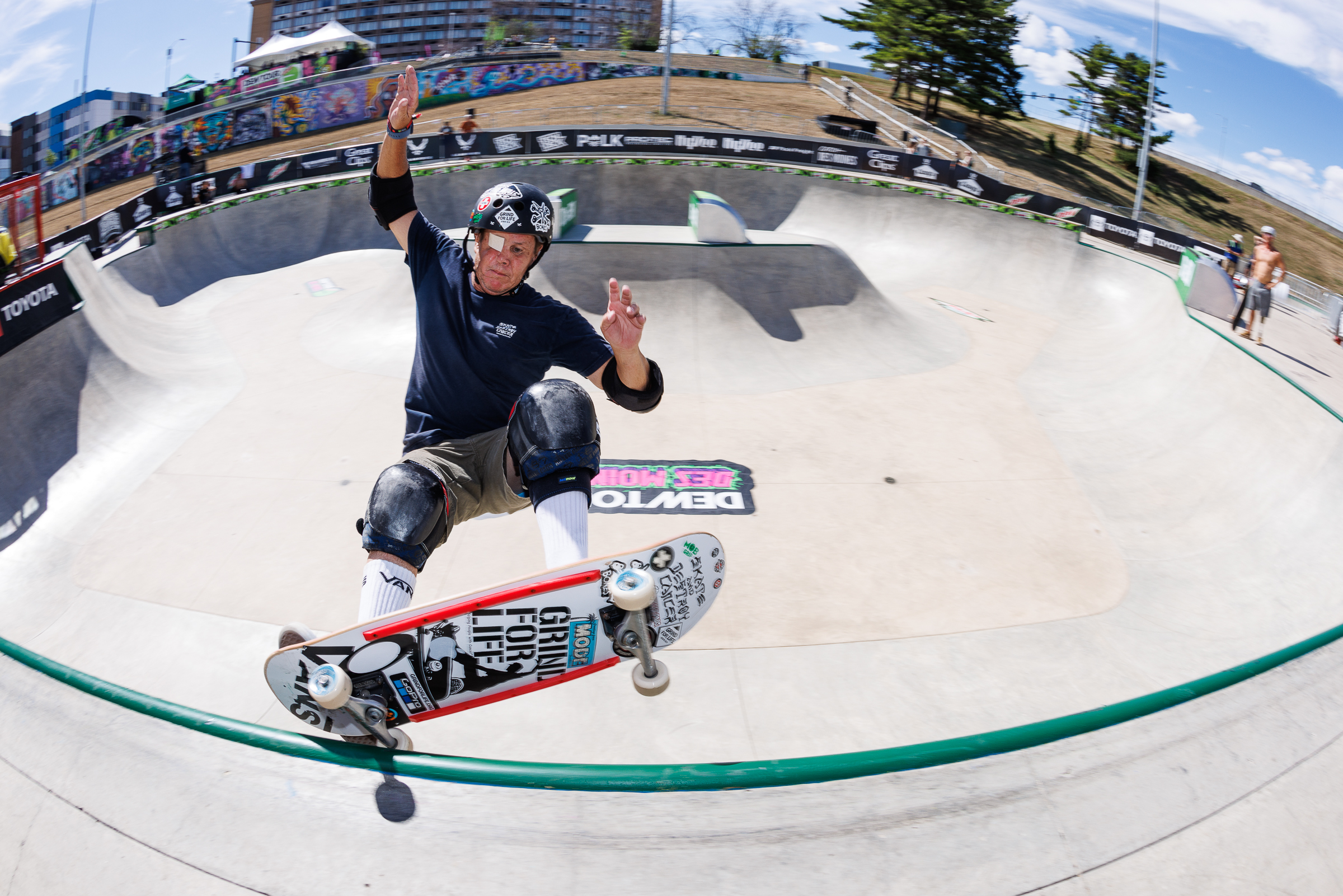 In 2003, Mike had a runny nose and went to his doctor, who diagnosed him with a nasal infection and prescribed antibiotics, but he didn't get better. When Mike returned for further evaluation, she suspected there was a polyp that was growing. Mike went to a specialist, who felt that the sarcoma had come back. A subsequent biopsy revealed his suspicions were correct—the sarcoma had returned with a vengeance. 
Mike was back to fighting for his life against sarcoma. He began searching for doctors who could address his needs with the most advanced treatments. He began researching facilities equipped to treat his cancer and finally found Sloan Kettering in New York City. The experts at Sloan Kettering would perform the procedure he needed. They promised to save his life, but they made sure he knew they couldn't predict what his quality of life would be afterward or even if he could return to skateboarding. 
Mike endured a 17-hour surgery involving a cranial-facial resection with a brain lift, plus removal of his right eye, cheekbone, half of the roof of his mouth, and some of his teeth. The surgery changed his facial structure but didn't change his strong, positive attitude.  
 
He knew that if he survived the surgery, he would regain his strength and return to the things important to him. The entire time he was battling sarcoma, he knew he wanted to return to competitive skateboarding. 
After what he has gone through—twice—Mike doesn't take anything for granted. When he cashed in his retirement funds to get through his illness, he had an epiphany. He knew how hard it was for him to recover financially. How hard was it for other people to pay for their cancer treatment?  
This experience led to Mike's nonprofit Grind for Life in 2003. 
Grind: a skateboarding move that involves sliding along an edge or surface on the trucks of the skateboard. This can be done on ramps, ledges, handrails, or any surface a skater can balance on. 
Grind for Life provides financial assistance to cancer patients and their families to cover travel and lodging expenses, meals, and personal needs during treatment. They also provide education on cancer survival and recovery with Mike's Story. 
Since 2004, Grind for Life has provided over $360,000 for approximately 400 cancer patients traveling long distances for treatment. They sponsor community events to raise money, such as the Triple Eight Clash at Clairemont on September 29, 2019. You can watch the live webcast here. https://www.grindforlife.org/triple-eight-clash-at-clairemont-live-web-cast 
Grind for Life also hosts adaptive skateboarding contests, which allow for skaters with different abilities to still participate in the community. Watching them compete is amazing, as some participants perform tricks with the help of canes. Many have a goal of participating in the Paralympics. 
Mike says, "It's good to be able to know you can kick cancer's butt twice and show people that cancer doesn't always win. People prevail. You can get back to life and do good things." 
For more information about Mike and Grind for Life, visit grindforlife.org.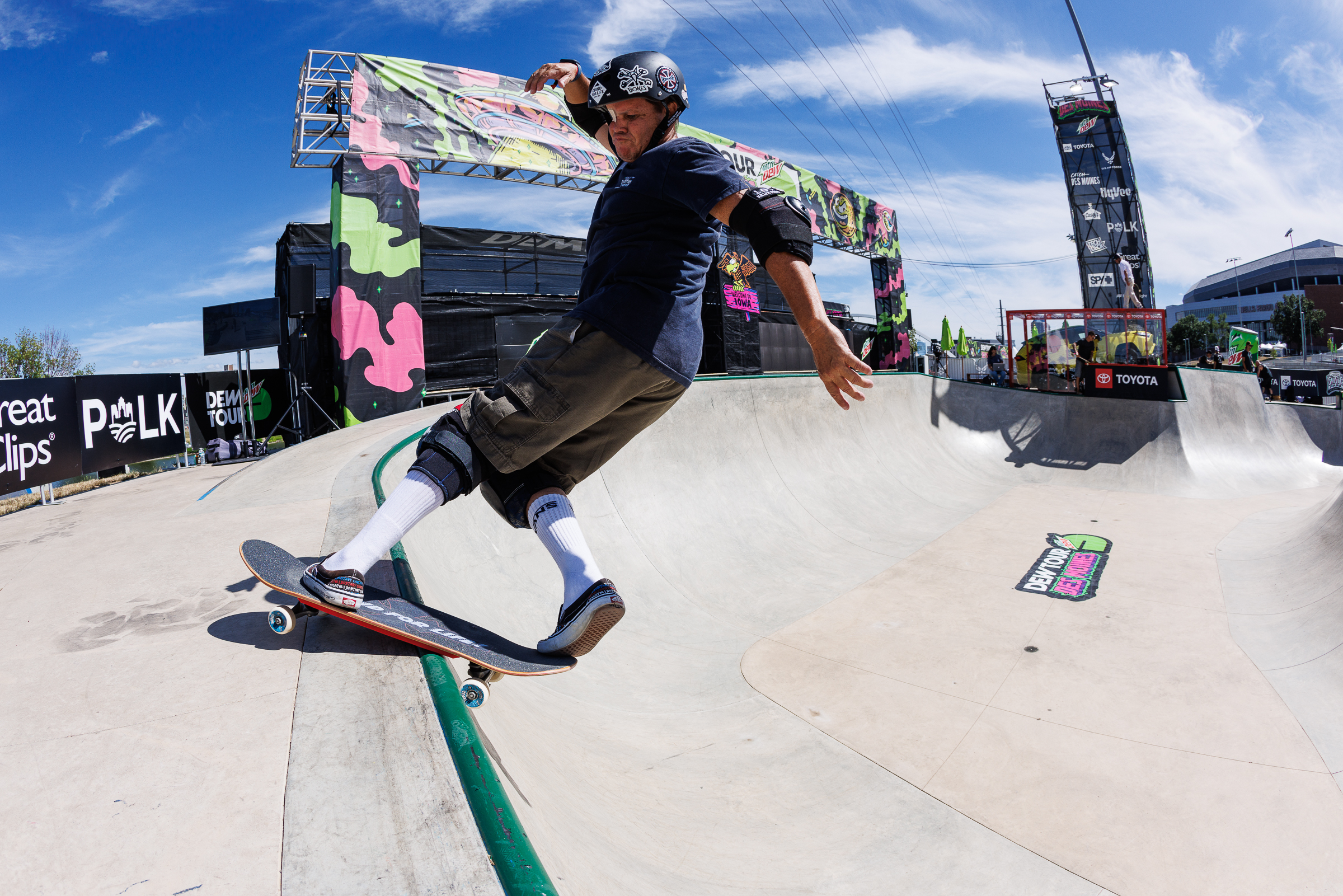 Photo credits for skating shots: Bryce Kanights