My family history has played a huge part in the perception of cancer awareness from a number of facets.  The most notable way is the perception that colon cancer is an "old man's disease."  While I may be older now, the fact that I was 29 when I developed colon cancer (the first time) makes people stop and think, even if they don't necessarily have a family history. Too often, even now, younger people are being misdiagnosed when they have symptoms such as blood in the stool and/or changes in bowel habits.  One of my favorite ways of getting this message across is on the soccer pitch. I'll play a pickup game with guys much younger than me and hand out my cards afterward.  Right on the front, it says 3x cancer survivor, which surprises most people since I haven't even turned 50…yet. I'm a big fan of starting the conversation, especially among men, who don't talk about their health much. Rather than preach, I put my sales hat on and listen. When people think for themselves and come up with ideas and conclusions, it usually goes a longer way than me telling them what to do.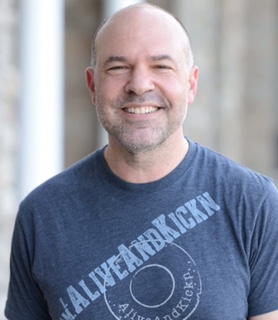 The perception of hereditary cancer has also been a motivating factor from my standpoint and for others. Think about history. It wasn't too long ago that people "died of stomach aches" or simply "cancer."  Without fully being able to trace how your family history has been affected by cancer, or even specific types of cancer, it's difficult to make an accurate medical family tree (aka a pedigree) . However, by starting the conversation about hereditary cancer, people can start the process of collecting their family history. Even if the information isn't perfect, it's a start.  I specifically remember attending a colon cancer awareness day at Mount Sinai Hospital, and in a span of 4 hours, just by listening to people walk up and talk about their family history, at least 15 people seemed to me to possibly need genetic testing for Lynch syndrome.  
Obviously, the perception of cancer in my own family is at the top of my mind. We cannot take anything for granted, including average age of onset for most cancers, as well as location in the body. The timelines may be all off, and the routine may no longer be routine because of the potential for hereditary cancer. At least we have a good idea of what we're up against.