With the increase in genetic testing for hereditary cancer syndromes, many women, especially those under the age of 50, are undergoing prophylactic surgeries in order to prevent cancer. While the surgeries may drastically reduce one's chances of developing cancer to a particular area or organ, these surgeries are not to be minimized as they may hold long-term implications for those who undergo them. Attempting to prevent cancer by removing body parts, especially the ovaries, comes at a huge cost. 
Hereditary cancer syndromes vary, as do their prophylactic surgical measures and this is one reason why is it absolutely imperative patients seek out certified genetic counselors to understand their particular mutation, their risks, and what can be done to minimize their chances of developing cancer. 
Many women with hereditary cancer syndromes are stuck between a rock and hard place – especially if they are far off from reaching menopause. Removing ovaries prior to menopause can be a catalyst for a host of other medical issues and these issues should be discussed with your certified genetic counselor and your doctors. Many women who undergo an oophorectomy and who are far off from achieving natural menopause find themselves dealing with a host of difficult issues: hot flashes, anxiety, weight gain, cognitive decline, and osteopenia, just to name a few. While hormone replacement therapymay improve some of these issues, not everyone is able to take it and this only worsens their situation.
Screening for ovarian cancer at this current time is very poor. Usually by the time ovarian cancer is detected it is too late – and it can be deadly. For those who opt out of removing their reproductive organs, they must undergo frequent, yet painfully invasive endometrial biopsies without anesthetic. 
Many factors will determine a woman's approach to surgical decisions. Personally, my strong family history of cancer, losing my mother when I was nine to a sudden heart attack, watching my brother die from colon cancer, and then having a small child of my own were all factors which influenced my decision to remove my reproductive organs at age 40. I wanted to minimize my cancer risks; growing up without my mother was highly difficult and I wanted to do everything I could to ensure I would be around for my son – and I did not want to risk the possibility of developing ovarian cancer.  Finally, watching my brother deal with colon cancer and eventually die from it at age 36 made me realize the gravity of Lynch syndrome related cancers.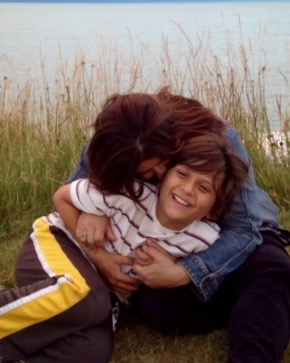 There are a constellation of factors one must consider when making such difficult life-altering choices – sadly, there is no easy answer. As a fierce advocate for those with hereditary cancer syndromes, especially Lynch syndrome, I strongly encourage patients to see a certified genetic counselor in order to get all the facts and properly have their risks assessed. I also highly encourage patients to be vigilant with their health, take preemptive strikes by having prophylactic surgeries if they are right for them, having meticulous, frequent screenings, and seeking out the best medical treatment they can afford. 
I am always available to assist patients with any issues they may need help with -- please feel free to reach out to me at ihavelynchsyndrome@gmail.com.