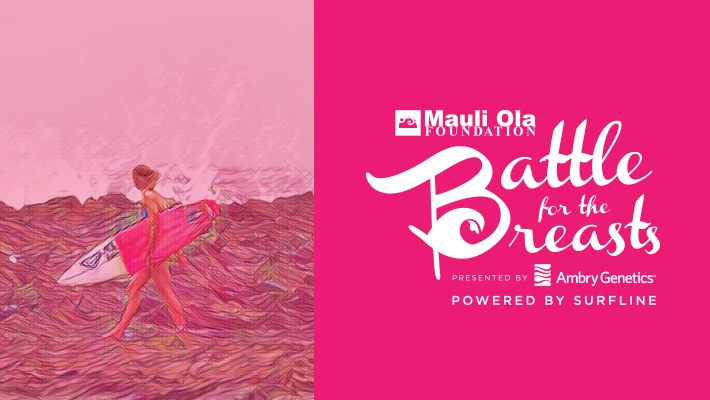 In honor of Breast Cancer Awareness month, Ambry is proud to support many non-profit foundations and organizations, including the Mauli Ola Foundation's 3rd annual Battle for the Breasts (B4TB). The B4TB is an online surf contest featuring 16 professional women surfers who are each paired with cancer clinics and/or foundations.
Each surfer submits their best surf video clips to well-known surf news website Surfline.com for a chance to win their clinic or foundation up to $125,000 in Ambry's hereditary breast cancer test vouchers.  Viewers are asked to vote for their favorite video on Surfline every Tuesday during the month of October.
This unique competition spreads breast cancer awareness to an audience of about 1.9 million and empowers individuals to support one another and take charge of their own health through awareness and Ambry's genetic testing services.
Ambry offers many different genetic testing options related hereditary cancer, including the panel CustomNext-Cancer, which allows a clinician to choose from up to 55 genes in order to create their own hereditary cancer panel, thus tailoring the test to their patient's specific needs. Ambry also offers several panels focused on hereditary breast cancer, such as BRCA1/2, BRCAplus, BRCAplus-Expanded and BreastNext, as well as many other tests related to different types of hereditary cancer.
In addition to several patient advocacy groups and events, Ambry also supports the necessary research and test developments to further the oncology field. Recently, Ambry presented on how BRCA2 mutations may also indicate an increased risk for brain tumors.
These findings show how increased funding for breast cancer research affects many more people than just the estimated 5-10% of the 246,660 women and 2,600 men who are diagnosed with hereditary breast cancer each year. Ambry continues to supply big data information to researchers and clinicians in order to aid the progression of the scientific research community and healthcare industries, with the ultimate goal of further understanding all human disease. 
Learn how Ambry promotes breast cancer awareness through our newsletter, blog and social media.
To learn more about your risk for  hereditary cancer, utilize our Risk Assessment Tool.