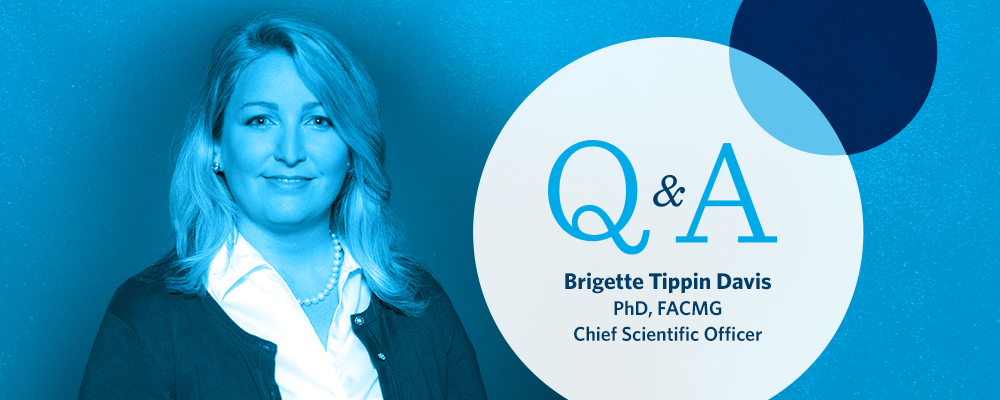 Brigette Tippin Davis, PhD, FACMG, joined Ambry Genetics in 2011 and currently serves as Chief Scientific Officer where she oversees new clinical product development pipelines and research collaborations.
She met virtually to talk about her career in STEM (Science, Technology, Engineering and Mathematics), the barriers she faced as a woman in science, and the value of doing things your own way.
What path led you to working in STEM?
In the fifth grade, my school invited Christa McAuliffe to speak. She was going to be the first teacher in space joining the Challenger mission. Seeing that women could be explorers and innovators was inspiring, and afterwards, I wrote to NASA to find out how to become an astronaut.
I was ten years old, and someone at NASA wrote back and told me thank you for your interest, but women were not allowed to join the standard astronaut program and could only serve as part of crews as science officers. I thought I'd become a scientist so I could go to space.
Later, I found my first scientific mentor in my junior high biology teacher, Ms. Marion Varey, who taught how DNA gets transcribed into RNA that turns into protein, and that was the code of life.
From that time forward I knew I wanted to be a geneticist, and in the 8th grade, I took on my first real research project. It was a controversial topic at the time, which was AIDS awareness. I learned how HIV infects the body through T-cells and how viruses invade a cell and can hijack the human body and disrupt all its normal physiology.
How did you follow that passion later?
After college, I originally applied to medical school. I had an interest in medical genetics, but it was a new and uncommon subspecialty then. Every physician who interviewed me said genetic medicine wasn't the way of the future, that all the push was in primary care, and no one was doing genetic medicine. They told me to get a PhD, so I did.
I focused on DNA repair mechanisms and DNA polymerases (a special type of enzyme) that replicate our DNA. Many of those polymerases and repair proteins, when they mutate, may contribute to cancer risk. Most of the genes I studied and the proteins I worked with are on Ambry's CancerNext panel.
By the time I finished my PhD, the medical field had caught up to my career interests, and I applied to a medical genetics fellowship at UCLA/Cedars Sinai led by the late Dr. David Rimoin. He was one of the lead figures in medical genetics and wrote the major textbooks on genetic disorders and single-gene diseases.
I stayed on for a few years at UCLA and had my own research lab engineering rare disease therapies for preclinical animal studies. But the academic grant cycle was a really challenging place to be and took me away from applying genetics to clinical care, which is where I longed to be.
That's when I saw Ambry Genetics was looking for an assistant laboratory technical director and that they were starting next-generation sequencing. I think we had around 30 tests on the menu when I started, and there were another 300 tests they wanted to turn on in the next two years. I had a hand in validating all those tests and implementing them out into the laboratory. I was finally bringing genetics to clinicians, and I was exactly where I wanted to be.
It shows that when someone tells you your passion isn't a viable career path, sometimes it can be. You don't know what ten years from now will look like.
Absolutely. My philosophy is to carve your own path, and inspiration will follow. I've been fortunate to have windows and doors open to me, but I seized those opportunities. Even when the odds look challenging, you've got to believe in yourself.
What really led me to research and development within Ambry after all these years was my natural inclination to be a problem solver and a tinkerer. I wanted to go in and fix things. I love genetics because you can help people and solve problems with it at the same time.
Women make up only 20% of leadership teams but fill half of the life science industry's entry-level positions. As a woman in leadership, what challenges did you face throughout your career, and how did you navigate them?
I had to overcome the blonde stereotypes early in my career in a male-dominated scientific world. At scientific events, getting ready to give a presentation in front of hundreds of people, more senior male professors or colleagues would give me a drink order or think I was there to show them to the podium.
Another challenge I encountered was having to learn to be assertive and not apologize for it. If you're not willing to speak up, your voice will never be heard. When you can do that in the more challenging moments, that's when you can really step up, show leadership, and make a difference.
I experienced those challenges until I got to Ambry. The founder of Ambry, Charlie Dunlop, created a culture of talent empowerment where if you had a good idea, he championed you and supported you no matter who you were or what you did at the company. He walked through the halls and talked to people, and a lot of hallway ideas became new products.
Were there any women that you looked to for inspiration and/or guidance along the way?
In junior high, we had a tough principal who everyone at school was afraid of because of her commanding presence. I was a great student, but one time I got in trouble for chewing gum. She brought me into her office and started asking tough questions. I gave her a very honest answer, and I pushed back. It was the first time I asserted myself and gave my rationale.
Rather than following through with the punishment, she told me standing up to people is an important life skill and that I was going to do well in life because I was brave enough to say that to her with real reasoning. That was a formative moment for me. It taught me that you won't be rejected or punished for speaking out.
In college, there were two female professors going for tenure that I asked to meet to know more about their path. What they showed me was that if you wanted to be a professor in academia, then your career had to come first, family second. They gave up doing the things they wanted, like having a family, for their career.
I realized if that's what it took to succeed as a woman in science, I wasn't going to take that path. I was going to pursue a career in science my own way, which was to prioritize a career and a family.
Below: Brigette with her husband, Steven Davis, and daughter, Kira.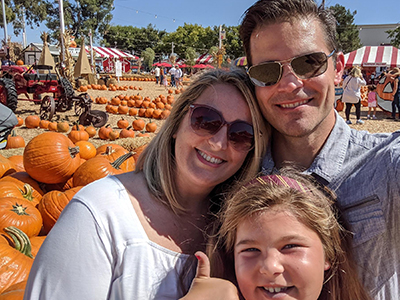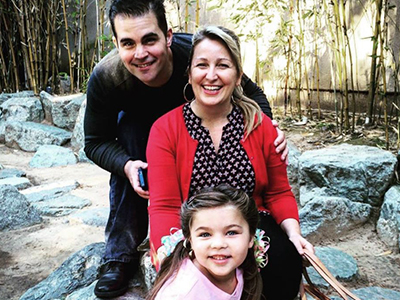 Ambry Genetics was named among the best workplaces for women in 2020 by Comparably based on employee ratings. Why do you think that is?
It was that empowering culture that was created by the founder. Ambry's human capital involves the ideas that are generated, the teamwork and the roll-up-your-sleeves attitude. It was never about gender, ethnicity, or your degree.
Some of the best ideas could come from someone who had no science background whatsoever. They were just excited and interested, paid attention to the world, and threw out a concept. That bedrock created a culture for everyone to succeed, grow, and challenge themselves at Ambry.
I realized if that's what it took to succeed as a woman in science, I wasn't going to take that path. I was going to pursue a career in science my own way, which was to prioritize a career and a family.
The lack of hierarchy really allowed women to take on challenging project leadership roles and acquire new skills along the way that were traditionally reserved for men. Most of us didn't have formal business training. We were scientists turned leaders and had to step up and learn from each other.
What would you say about the current culture at Ambry?
Being supported in your ideas is part of the ongoing culture at Ambry. There are women at the leadership level and across the organization. The best way to lead is to be yourself, and Ambry has removed barriers for women in leadership. It doesn't seem like a barrier because it isn't one.
What advice would you give to other women in business or women in STEM?
If you're interested in STEM, find as many real-world applications for that technical area as you can, and then just start exploring how many people have applied it. Start reading the real-world applications of those things that interest you, and that's where you can make some good decisions in terms of career choice, choosing a major in college, or getting involved in volunteering and internships to explore those interests.
And never stop learning. Once you go into a career field, you're going to discover you need skill sets that are out of your core STEM knowledge base, such as business presentation skills. If you become a manager, you may need to learn some financial skills. If you're a scientist who goes to work with project managers, you need to understand how to do budgets and lead by influence.
Follow your scientific interests, but don't forget about the real-world skills that will help you communicate and succeed in leveraging that love of science.
How do you think STEM-related work applies to women in other fields?
Having women in STEM fields brings a different perspective and broadens the application of scientific technologies to better meet the needs of society overall. Women might think about solving a problem for a certain segment of society with a different approach.
You want to have women designing products that benefit women because they may be thinking about concerns differently. They can come up with a more marketable product or one that really meets the underlying need of the consumer because women were involved in engineering it.
In other fields, it's important to have a balanced perspective across gender, ethnicities, and cultures. Ambry is in the phase of expanding globally, so our U.S. perspective, for example, and the products and science that are important here might not matter to another region of the world. They may be facing very different diseases and healthcare system challenges.
You must understand how to meet their needs and provide value to them as a diagnostic company, a human, and a business. Women can bring a balanced perspective that translates and benefits everyone.