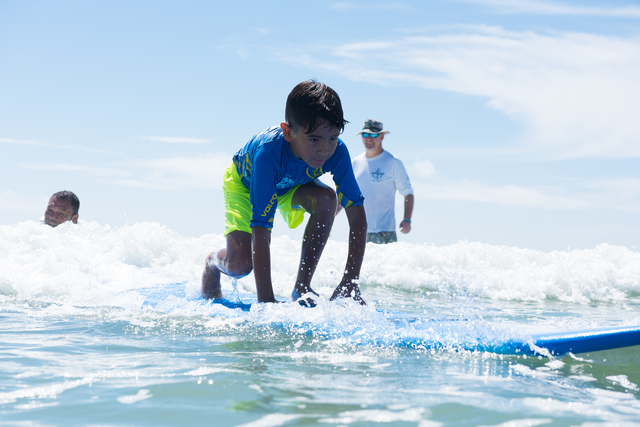 Editor's Note: In honor of Cystic Fibrosis Awareness Month, we asked Jacqueline Washle, Ambry's Community Outreach Manager, to tell us about the Mauli Ola Foundation, which supports people with cystic fibrosis and other inherited conditions as part of its mission.
Did you know that going to the beach is not only a fun pastime for many, but that the salty air and water are also a natural treatment for those who have cystic fibrosis (CF)? CF is a genetic condition that causes ongoing problems with the lungs and digestive system, usually requiring time-consuming treatments and medications. The Mauli Ola Foundation (MOF) is an advocacy group of professional surfers and other athletes that takes people with CF and other inherited conditions on Surf Experience Days and Ocean Experience Days. These events get them surfing or near the ocean, allowing them to experience the natural benefits of the salt water. The MOF (Hawaiian for "breath of life") began in 2007, following a study published in the prominent medical journal The New England Journal of Medicine that described the healing benefits of salt water ("hypertonic saline") for patients with cystic fibrosis. Salt water acts as a natural lubricant and allows people with CF to expel the thick mucus that clogs their lungs.
Each year, the MOF goes on tour. This year, the tour begins in two days on May 6, on the beautiful island of Oahu, Hawaii. Sunny Garcia, six-time Vans Triple Crown of Surfing winner, will be hosting this event. From there, the surfers will hop on their tour bus in sunny Southern California at Manhattan Beach for a Surf Experience Day hosted by professional fighter, Brian Ortega. 
The tour would not be complete without a stop in Huntington Beach, CA (also known as Surf City, USA), hosted by renowned local pro, Teddy Navarro. The tour will make one more stop in Southern California in Del Mar near the end of May before heading up the coast to Santa Cruz. There, they will honor the late surfer, Shawn "Barney" Barron, who was loyal to the MOF mission.
Throughout the month, MOF surfers also take some time out of the water to visit young patients in area children's hospitals who are too ill to make it to the ocean. While at the hospitals, the athletes spend quality time with the children by teaching them to play ukulele, coloring specially designed hats, autographing posters, and swapping stories. It is apparent to all how much joy the aloha spirit brings during these visits.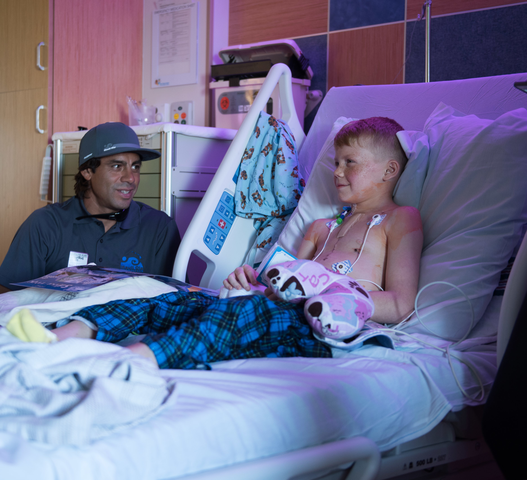 This year, MOF embarks on its East Coast tour in June. Leaving on their tour bus from Orange County, CA, the athletes will host various Surf Experience Days that start in New York and continue down the coastline all the way to Texas. In between catching waves, the MOF team will continue their stops at hospitals along the route to visit with children.
The Foundation's motto, "May the wave heal us all," speaks volumes about its passion. Catching waves and improving the lungs of people with CF is a wonderful way to honor Cystic Fibrosis Month, as well a great kick-start to summer.
Follow Mauli Ola Foundation throughout their entire tour by checking them out on Instagram (@mauliolafoundation) and Facebook. Mahalo!
To learn more about cystic fibrosis, visit the MOF website here.
To learn more about saline treatments and the impact of surfing on people with CF, visit the MOF website here.