This past year I had the honor of being selected as a Miami "Model of Courage" (MOC) for the Ford Warriors in Pink (WIP) campaign. As their mission statement says, "Ford Warriors in Pink is dedicated to helping those touched by breast cancer,through actions that support, inspire and empower patients, survivors and co-survivors throughout their journey." Ultimately, the idea is to give #moregooddays to those touched by the disease. This got me thinking, since the Miami MOCs meet monthly to discuss ideas on how we can further the WIP campaign. As breast cancer survivors ourselves, we know how meaningful and necessary it is to feel loved, supported and – maybe not surprisingly – how something seemingly insignificant can mean a whole lot to a person going through treatment for breast cancer.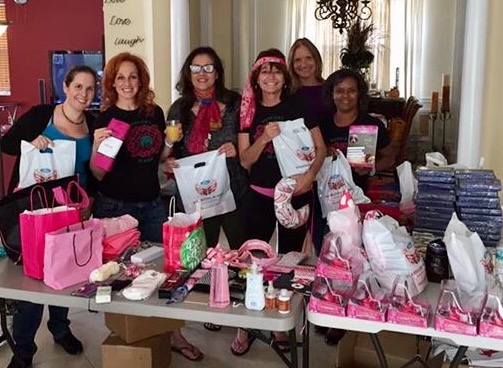 The holidays are almost here, but breast cancer doesn't schedule itself around holidays, work, school, birthdays or anniversaries. When it strikes, nothing else matters. Your health and survivorship becomes Priority Numero Uno. When I was going through that battle, I felt encouraged and supported by friends, families, co-workers and, occasionally, strangers who gifted me something that kept me going, tangible or intangible. Sometimes it was just encouraging words. A nurse whispered into my ear nearly every time I went in for chemotherapy, while she was hooking my IV up into the port in my arm, "You're walking out of here. You will be fine." I believed her. That was a gift of encouragement.   
After they get over the initial shock of a cancer diagnosis, I think most people realize how wonderful and precious life is. Any gift that helps a person appreciate life, and especially life with family and friends, would be welcomed. I'm reflecting back on all the kind and helpful things people did for me, or said to me, to help me get through the my breast cancer treatment and thought I might share those here. Bear in mind, there is no one-size-fits-all answer, but here are a couple of suggestions if you need ideas (for the holidays or any time):
Pajamas – Personally, I like the idea of something fun like a unicorn onesie, particularly for a UNIque friend or loved one (see below)
Natural and paraben-free hand creams, moisturizers and lip balms
Offering assistance without being too intrusive, maybe to help with picking up groceries or dinner one night. If your friend or loved one has kids, maybe you could take them out for a couple of hours.
Send notes or cards to let them know you're thinking about them and wishing them well
Ask if there's anything you can help them with, like a ride to a doctor's appointment or scheduled surgery or procedure.
Most of all, I think simple gifts and inclusion in as many activities as possible, as long as the person is up for them, is the best one can do
Do not underestimate how something small can put a much-needed smile on a loved one's face and let them know that they are not alone in the fight.