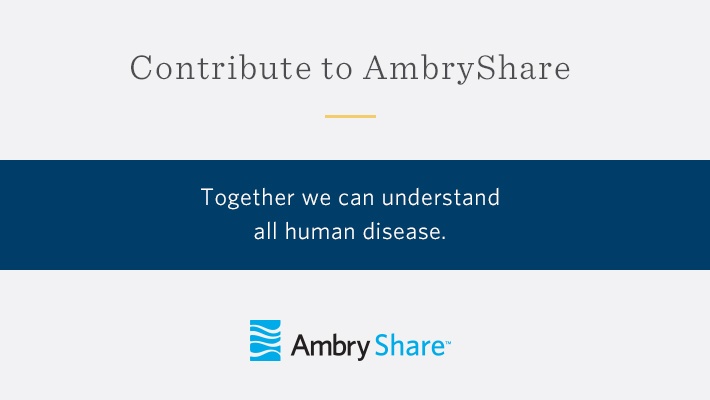 Since March 2016, Ambry has been collecting data samples from researchers through the data sharing program AmbryShare, with a goal of improving scientific research aimed at making more tailored treatments and/or cures available to clinicians and their patients.
 Now anyone can participate in a research study and choose to either submit an e-consent form or download a form and email a signed copy in order to be included in AmbryShare's research studies.
Individuals can also submit a sample through their clinician. Their contribution will be available to researchers, which can help progress research findings.
This is important because, according to the New England Journal of Medicine's article "Strengthening Research through Data Sharing", data sharing has the potential to enhance academic research, the practice of medicine and the integrity of clinical trials. The reasoning presented is that, thanks to open data, researchers will have access to more complete information, find more solutions to problems, explore different avenues of research and conduct large-scale analyses. All of which can ultimately help aid in more refined treatment plans for clinicians and their patients.
Ambry's open consent form is an easy process, all it takes is one click to download a form that can then be brought into a doctor's office, or printed out during the consultation and test ordering process. Genetic counselors and doctors will have the chance to encourage their clients to sign up for research, and press upon them the numerous advantages their anonymous offering can confer to the rest for the world.
Patients can also feel confident that their data has been de-identified in a secure database and their sample will aid Ambry's mission of helping the scientific research community find better treatments and/or cures for disease.
Help progress scientific research and donate your sample today!
To start, click here.