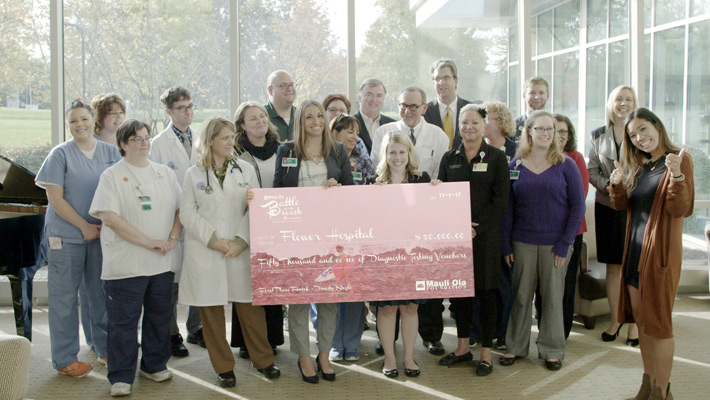 The Mauli Ola Foundation has announced the winning team of their 3rd annual Battle for the Breasts (B4TB) online surf contest, as of the end of October, which was also Breast Cancer Awareness month. As a proud sponsor of the competition, Ambry would like to congratulate the winning team of professional surfer, Dimity Stoyle of Maroochydore, Queensland, Australia and ProMedica Flower Hospital of Sylvania, Ohio, for winning $50,000 worth of Ambry's hereditary breast cancer testing tokens.  
 "We know that these monies will certainly benefit many families in the area," said Kelly Morse, Cancer Genetics Program Coordinator, MS, LCGC. "We serve all of northwest Ohio and southeast Michigan, so these monies are very far reaching. We will certainly make the best use of them that we can."
This competition paired 16 professional women surfers with cancer clinics and/or foundations. Each surfer submitted their best video clips to well-known surf news website, and official contest host Surfline.com, for a chance to win their clinic or foundation up to $125,000 in Ambry's hereditary breast cancer test vouchers. The surfer's video submissions were voted on by Surfline.com's audience.
"Breast cancer is such a terrible thing that affects so many people," said Stoyle. "The Battle for the Breasts is such a good way to spread awareness to so many different countries and local communities."
Not only did the competition's 1.9 million viewers watch these top professional women athletes surf with a progressive style at locations across the globe, but they were also educated about the importance of understanding their potential risks for hereditary breast cancer. This annual competition ultimately encourages the viewers to take charge of their own health through increased awareness and Ambry's genetic testing services.
Ambry has many different genetic testing options that are specifically focused on hereditary breast cancer, such as BRCA1/2, BRCAplus, BRCAplus-Expanded and BreastNext. In addition to these options, Ambry has recently updated the CustomNext-Cancer panel, which now allows a clinician to choose from up to 67 genes so that they can create their own hereditary cancer panel that will ultimately be tailored towards their patient's specific needs.
As of June 2016, there were more than 2.8 million women who have a history of breast cancer in the United States, according to BreastCancer.org and a woman's risk nearly doubles if she has a first-degree relative (mother, sister, daughter) who has been diagnosed with breast cancer.
To learn more about your risk for hereditary cancer, use Ambry's Risk Assessment Tool.
For more details about the B4TB competition, including interviews with the winning team, watch Surfline's video.