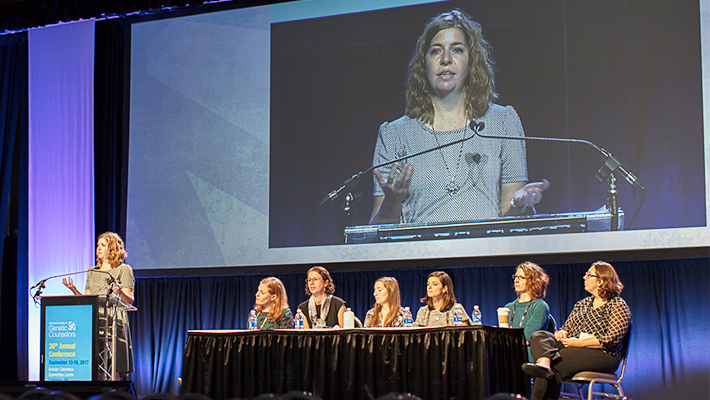 In our quest to understand all human disease, Ambry employs a team of researchers who investigate topics from every area of genetics research. Throughout her tenure at Ambry, Zoe Powis, MS CGC, Supervisor of Clinical Genomics Research, has contributed much to the broader body of knowledge about the field of genetics.
At this year's National Society of Genetic Counselor's annual education conference (NSGC), Powis presented 4 posters and gave a speaking presentation, with her research touching on areas as diverse as rare gene diagnosis rates to the changing ordering behaviors of clinicians.
While Powis was proud of all of her work, she believes that her speaking presentation is the one that best represents what makes Ambry unique among genetic testing labs. Her talk was included in a session called, "Inside Pandora's Box: Implications of ACMG Secondary Findings for Cardiology & Oncology Clinical Practice" and was entitled, "Inside Scoop from the laboratory: a review of lab-based outcomes research." The presentation focused on how labs can apply an ethical framework to the handling of unexpected findings unrelated to the initial reason for testing, or secondary findings, in clinical practice.
The talk urged the attending GCs to know lab's policies and procedures when comes to secondary findings. Knowing your lab's variant assessment procedures is important for ensuring accurate results when it comes to secondary findings and all exome testing. Powis said that when it comes to testing, both labs and clinicians do not want an inflated secondary findings rate because over diagnosing on secondary findings can be burdening and costly. Powis' recommended an approach to genetic testing that supports data collaboration and always wants the right answer to help people will lead labs to improve.
Powis commended Ambry for its commitment to research, at NSGC and throughout its history, noting that the commitment to share data and collaborate is integral to Ambry. That is the ultimate goal is for everything that Powis researches is to help Ambry help patients.
Below is a summary of Ms. Powis's poster presentations:
Powis Z., et al.: The results are in: who is testing positive for NF1 on hereditary cancer multi-gene panels?
This poster sought to expanding what people know about the NF1 and presented data from a cohort study of cases with pathogenic and likely pathogenic NF1 alterations identified on hereditary cancer multi-gene panels (MGPs). The data showed that patients without a clinical diagnosis of NF1 may also test positive for NF1 pathogenic alterations through hereditary cancer MGP testing and would benefit from further screening and genetic counseling. There is a need to expand clinical guidelines for NF1, because even in the absence of clinical symptoms, patients can still test positive and those with the mutation are at risk for other diseases besides cancer.  
Powis Z., et al.: Prenatal Genetic Counseling for a Novel Genetic Etiology identified in a fetus with Compound Heterozygous Alterations in MYH6.
This poster presented a case report of a fetus with complex heart defects with parentally inherited compound heterozygous MYH6 alterations identified by exome, a novel genetic etiology and demonstrates that the use of prenatal DES results in unique counseling challenges. The patents had a previous affected pregnancy with no genetic testing, but the testing of a subsequent unaffected pregnancy was not found to be compound heterozygous. Thanks to this diagnosis, the parents knew what to test their next baby for, giving them options for future pregnancies.
Powis Z, et al.: After 6 years: Diagnostic Exome sequencing expands to the non-geneticists and is becoming a first-line test
This study aimed to assess whether a shift is also occurring in exome ordering patterns, which would suggest the need for genetic counselors to broaden provider education, communication, and collaborations. The data shows an increasing number of non-specialists are ordering DES, which may indicate a need for GCs to collaborate beyond their departments and institutions. The types of patients undergoing DES are changing as testing becomes more widely known and available, creating a demand for expanded roles of GCs.
Powis Z, et al.: Challenges of Diagnostic Exome Sequencing: A Patient for Life and Implications for Genetic Counselors
This study is the result of Ambry's DES reclassification efforts and shows how time consuming it is for labs and providers. At Ambry, when a potential finding is found for an exome case that is more than a year old, health care providers are contacted to supply updated clinical information and new samples for Sanger confirmation, if needed. While reclassification is beneficial for proper diagnosis, and treatment and counseling of patients and a legal obligation, the data suggests that the need for a simplified method of re-contacting the patient directly, so as not to further burden busy providers, and make life easier for genetic counselors.
For more about our NSGC 2017 research, you can read a summary of several more presentations here, and an in-depth look at one of posters, which won 'Poster of the Show', here.